Close your eyes and picture the perfect Cinco de Mayo. We're willing to bet your dream fiesta includes a fun and festive atmosphere and delicious Mexican food and drinks! We can't think of a better place to celebrate the holiday than here in Dunwoody. Our collection of memorable Mexican restaurants lures foodies from near and far to our destination.  After you check out our list of must-visit places and can't-miss dishes, you may want to book yourself a room and make a weekend of it! Cheers, amigos!
Chupito's Azteca Grille
This friendly neighborhood spot nestled in the heart of Dunwoody is the favorite of many locals. Expect to be welcomed like a regular, whether you claim a seat at the bar or gather with friends on the patio. Owner Darren Benda is often on the scene overseeing the preparation of his carefully crafted brisket recipe and getting to know the guests.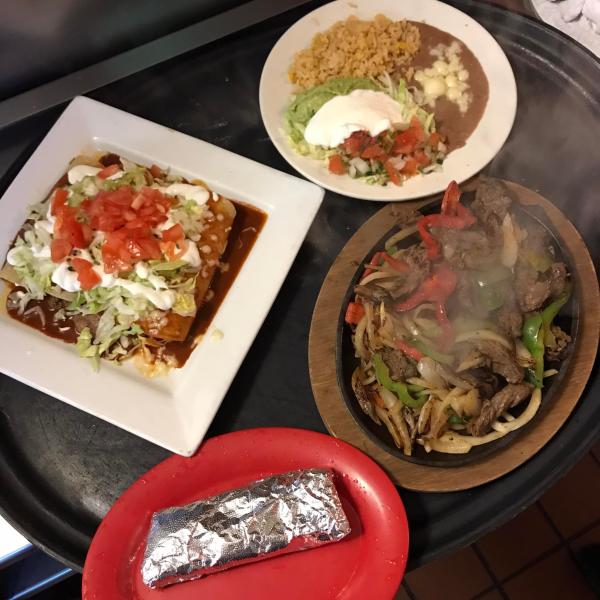 What to Order:
The Brisket Tacos are a go-to order for many repeat customers. If you're having a hard time narrowing it down, try the Texas Fajita Quesadilla made with steak, chicken and shrimp! You can't go wrong with a margarita made with one of the tequilas Chupito's offers: there are more than 35 to choose from.
Chuy's Tex-Mex
The first location of Chuy's Tex-Mex opened in Austin, Texas in 1982. Luckily for you, you don't have to book a flight to Austin to try their extensive menu of tex-mex fare. We have a Chuy's location right here in Dunwoody! This convenient location near the Perimeter is perfect for hotel guests and residents alike. Expect a cheerful, festive atmosphere and a menu that covers all the classics from nachos to enchiladas.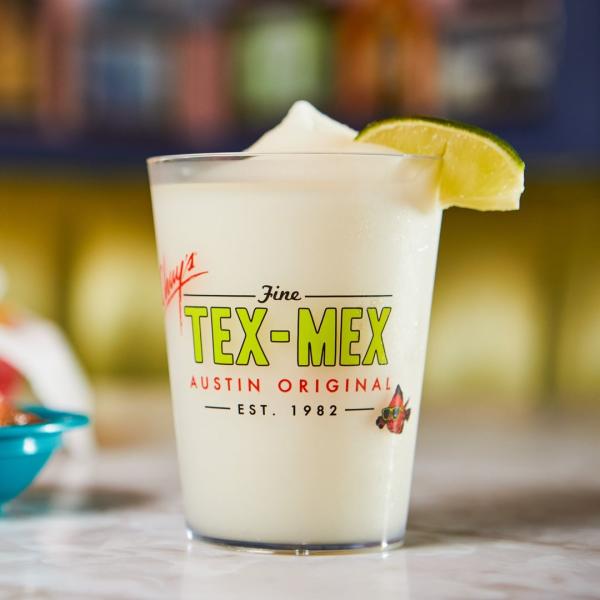 What to Order:
Gluten free tacos! The GF crowd reports that the staff of Chuy's will prepare gluten free corn tortillas on request. Pair with a frozen blackberry margarita, and you're on your way to a celebration. You can even add a swirl of classic lime or strawberry if you want to get fancy.
Cinco Mexican Cantina
Cinco Mexican Cantina couldn't possibly be more conveniently located. It's part of Dunwoody's shopping mecca, Perimeter Mall.  Plus, there's something so satisfying about celebrating Cinco at Cinco. A mission to stimulate all five senses is the origin of the restaurant's name (Cinco is the Spanish word for five). The colorful and vibrant setting welcomes guests with the enticing scent of freshly prepared classic tex-mex dishes and lively music, all before they experience the flavors of the variety of meals on the menu.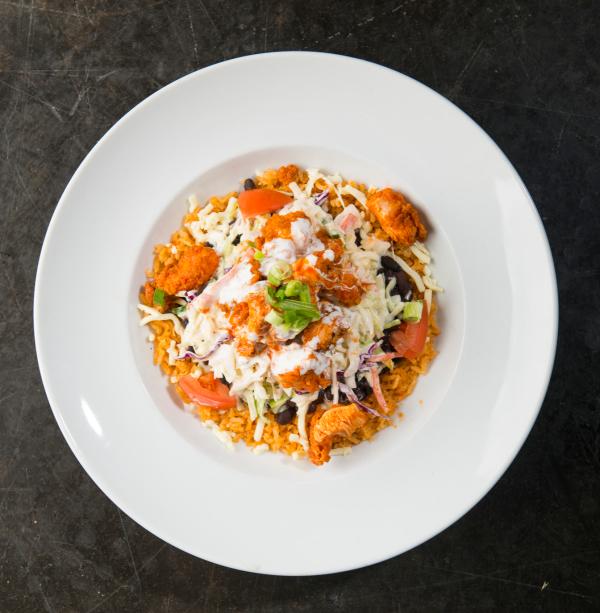 What to Order:
The salmon salad is a fan favorite, and this restaurant is known for paying special attention to healthy entrées. Diners can opt for a variety of salads and burrito bowls bursting with unexpected flavor combinations. Try a passionfruit margarita for a refreshing seasonal sip.
Red Pepper Taqueria
The newest addition to Dunwoody's foodies' paradise of Mexican restaurants, Red Pepper Taqueria recently unveiled their newest location with a cool and casual setting.  If you're in the mood for Mexican fare but your dining companion wants to satisfy a seafood craving, Red Pepper is the place to go. Enjoy the traditional options of tacos and fajitas, or order up trendy eats like tuna crudo, mussels a la diabla and even oysters (try them raw or grilled).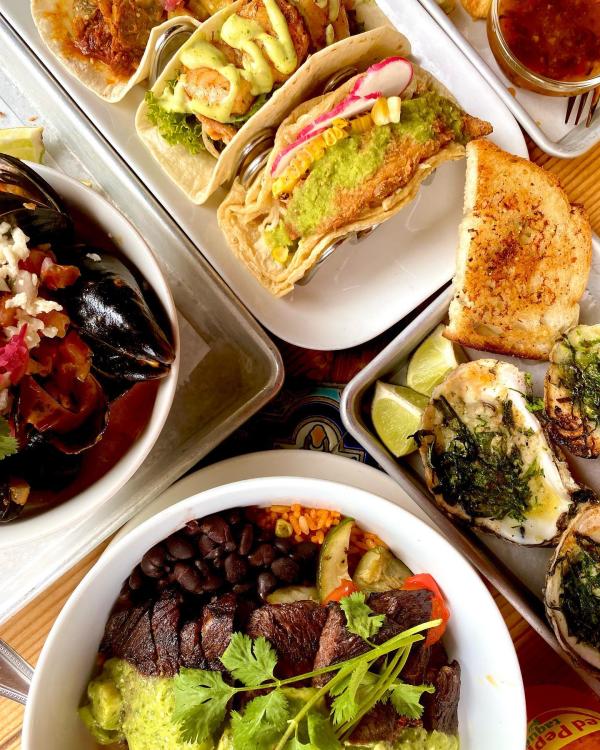 What to Order:
RPT draws brunch aficionados every weekend. Extend your Cinco de Mayo celebration by visiting on Saturday or Sunday to sample standout brunch mainstays like the "What Came First" with a Watermelon Mimosa… or get your caffeine fix with a Café Chico featuring mezcal, coffee and Mexican caramel.
Tin Lizzy's
What if tacos could be filled with other delicious combinations beyond the traditional chicken, beef and shrimp with classic lettuce, tomato and cheese? At Tin Lizzy's, they can! At this personality-packed cantina, you'll often be greeted by live music and we guarantee you'll have an opportunity to try a taco combination you haven't seen before.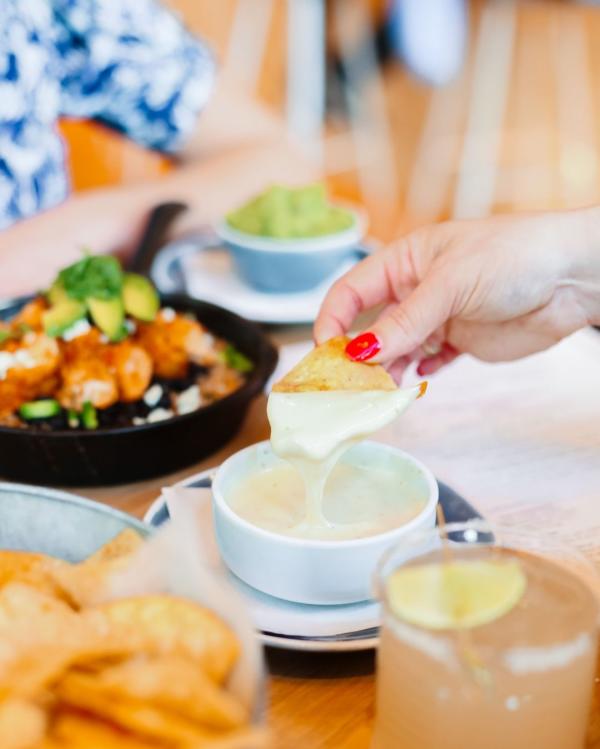 What to Order:
Ready to be surprised? The fried pickles are one of the stars of Tin Lizzy's appetizer menu. Order a basket of these, along with a classic margarita or the sought-after Mexican Coke while you explore the rest of the menu. Sample a few uncommon bites like the Korean BBQ Taco or the Steak and Cheese Philly.
Taqueria Los Hermanos
Recently crowned Best Mexican Restaurant in the Best of Perimeter Awards for the second consecutive year, Taqueria Los Hermanos is a weekly staple for many local families. A festive bar area, welcoming patio and plenty of variety keep guests coming back for more. We can't fly you to Mexico, but this is the next best thing!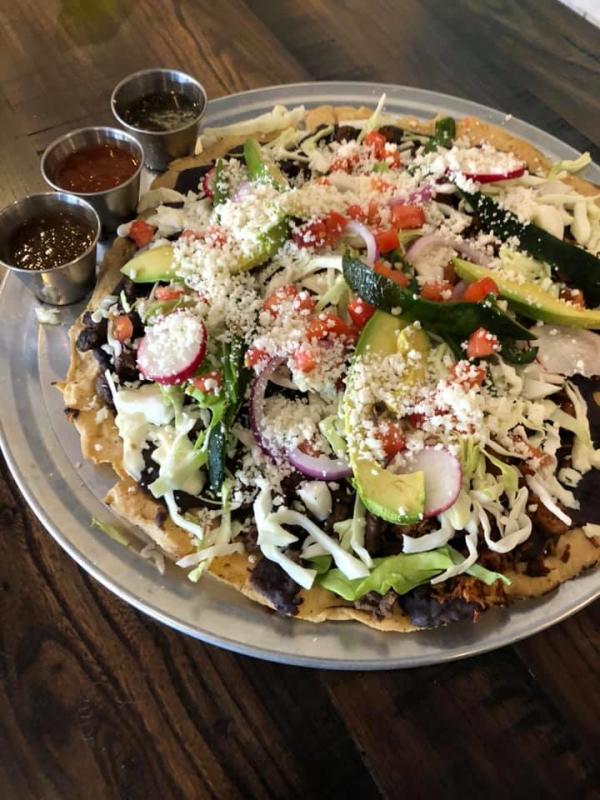 What to Order:
The Tlayuda, a thin crunchy fried corn tortilla piled high with toppings and served with house made salsas, is a popular dish unique to Taqueria Los Hermanos. Pair it with a jalapeño margarita for a spicy kick.
Let's Fiesta!
With six unique dining destinations to choose from and the inside scoop on the best menu items to try, you're ready to explore Cinco de Mayo in Dunwoody! Don't forget to use #DiscoverDunwoody to share your adventures on social media. Cheers!