No pressure, but Thanksgiving is quickly approaching. Per usual, this is the most delicious feast of the year to look forward to. But you also have to make sure that the most delicious feast does not end up becoming the most epic fail. That's where the pressure lies. What if you aren't the best cook? What if you waited until the last minute to go grocery shopping and now the only side items you can find on store shelves are potato chips? Relax. Some of our amazing restaurants here in Dunwoody are here to save your Thanksgiving. Now the hardest part is just refraining from ordering some of everything. Whether you are looking to eat in or eat out, we have you covered.
 
Dining In
Let someone else do the hosting this year.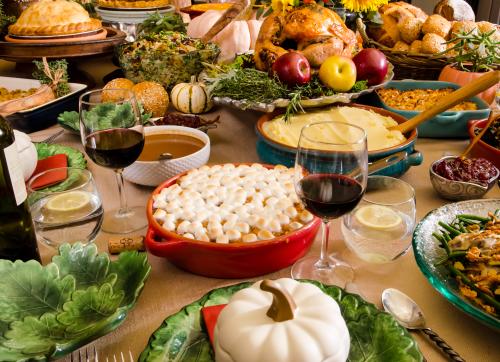 An elegant holiday awaits you at Dunwoody's most storied steak house.  McKendrick's welcomes guests to their dining room on Thanksgiving Day, offering their dinner menu along with Chef Brent's holiday specials and a traditional turkey dinner. Reserve your table here.
Make memories in style at Fleming's Prime Steakhouse & Wine Bar, where you can enjoy traditional holiday favorites along with their regular dinner menu. A Thanksgiving catering menu is also available if you prefer to celebrate the season from the comfort of your own home. Find all the details here.
With the most Instagram-worthy bar in town as a backdrop, Joey D's has your holiday dining needs covered. Enjoy a traditional Thanksgiving dinner along with favorites from their standard dinner menu, either in their classic dining room or in your own home with a takeout option. To make a reservation or pre-order your meal, visit this link.
ORDERING OUT
Bring something special to the table.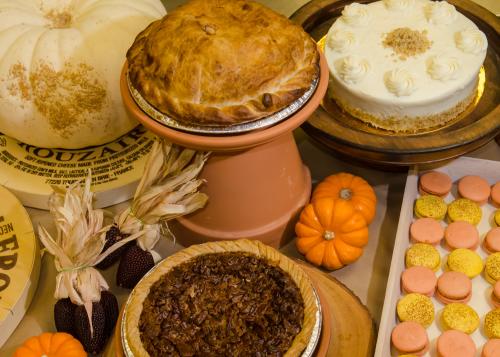 The winning combination of European culinary techniques and Southern influence shines in the holiday takeout menu of longtime local favorite, Alon's Bakery & Market. Select a classic turkey feast with all the trimmings with a single click, or order delectable sides and sauces to complement your own homemade bird. No matter what, don't forget to add a few of Alon's famous desserts! Simplify your holiday feast by clicking here.
Dunwoody locals can't get enough of the made-from-scratch recipes and inviting local charm that define this community café.  Breadwinner's flexible menu of entrées, sides and sauces gives you the flexibility to mix and match to design your perfect Thanksgiving meal. Pre-order on their website, select a pickup time, and then enjoy the easiest holiday ever.
With a Thanksgiving menu that aligns with Seasons 52's focus on seasonal produce and fresh flavors, the restaurant is offering family style options to serve four to six guests and individual portions for Thanksgiving meal pre-orders. Complete a simple online ordering process, and enjoy a chef-designed holiday meal at home this year. To pre-order your holiday feast, click here.
Iron Hill Brewery and Restaurant
If pre-ordering a growler of craft beer along with your Turkey sounds like the perfect plan for Thanksgiving takeout, look no further than Dunwoody's newest brewery! Iron Hill's traditional meal serves four and includes turkey and all the traditional accompaniments. Add a growler and a few pies for the complete Thanksgiving-at-home experience. Click here to order.
Collard greens and mac n' cheese… that's what Thanksgiving dreams are made of! Pre-order your Thanksgiving meal from our local barbecue masters and choose a whole turkey or sliced turkey breast by the pound along with Southern sides and desserts this holiday. Call the restaurant at (678) 580-1710 to place your order by 11/22.
A Happy Thanksgiving Indeed
No matter where or how you make Thanksgiving dinner happen this year - you simply cannot go wrong with any of these choices. Just know that you will probably be in charge of Thanksgiving from here on out. With all of these options in Dunwoody to help you go above and beyond, that isn't such a stressful thing after all. Now you have more time to focus on feeling good with those you love - and that is truly something to be thankful for.