No pressure, but Thanksgiving is next week. Per usual, this is the most delicious feast of the year to look forward to. But you also have to make sure that the most delicious feast does not end up becoming the most epic fail. That's where the pressure lies. What if you aren't the best cook? What if you waited until the last minute to go grocery shopping and now the only side items you can find on store shelves are potato chips? Relax. Some of our amazing restaurants here in Dunwoody are here to save your Thanksgiving. Now the hardest part is just refraining from ordering some of everything. Whether you are looking to eat in or eat out, we have you covered.
 
Dining In
Let someone else do the hosting this year.
Portico Global Cuisine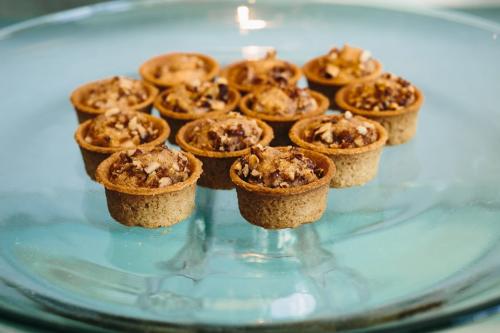 The Le Meridien Atlanta Perimeter is always great at making things feel like home, but they're taking it to a whole new level with their Thanksgiving Feast offered by Portico Global Cuisine.
Chef's Carving Station
Whole Roasted Turkey (Black Pepper Foie Gras with Gravy)
Orange Blossom Honey Glazed Ham (Cranberry Aoili + Dijon Mustard Sauce)
Hot Stations
Red Grape Veronique Seared Salmon
Boursin Mashed Potatoes
Mashed Sweet Potatoes (Toasted Marshmallows + Pecans)
Cornbread Sage Stuffing
Green Bean Casserole
Roasted Baby Vegetables
Warm Yeast Rolls + Sweet Potato Biscuits
Cold Stations
Garden Salad
Caesar Salad
Sweet Potato Salad
Curated Selection of Smoked Fish
Charcuterie, Pâté and Cheeses
Desserts
Georgia Peach + Blueberry Cobbler
Pumpkin Pie
Sweet Potato Pie
Bourbon Pecan Pie
Flourless Chocolate Cake
Mini Desserts + Mousses
And all of this fabulous food will be accompanied by the fabulous sounds of the Tom Woods Jazz Trio! The feast lasts from 12 p.m. to 4 p.m. and is $60 for adults, $25 for kids (12 and under.) Guests over 21 can even indulge in $5 mimosas and $5 Bloody Mary's. 
Parkwoods: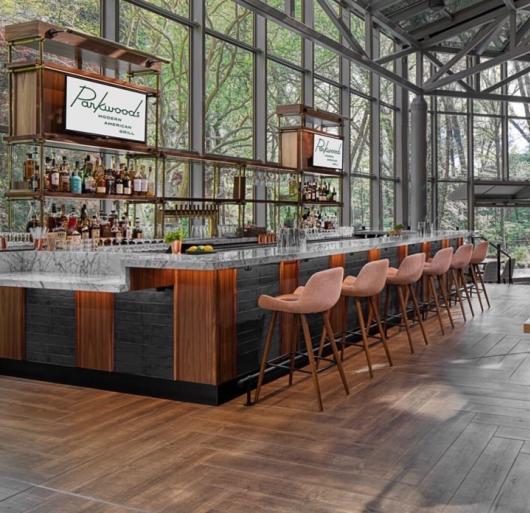 Parkwoods is a newcomer to our restaurant scene, but take one bite of their food and you'd never be able to tell it. They're located inside the beautifully renovated Crowne Plaza Ravinia, so if you eat too much then you can just book an overnight room to take care of that wonderful Thanksgiving nap.
Appetizer
Butternut Squash Soup OR Winter Kale and Frisee Salad
Entree
Free Range Carved Turkey OR Citrus Crusted Salmon
Dessert
Traditional Pumpkin Pie OR Pecan Pie
Kid's Menu:

Appetizer:
Mixed Green Salad OR Butternut Squash Soup

Entree:
Free Range Carved Turkey OR Chicken Tenders
Dessert:
Traditional Pumpkin Pie OR Fruit Cup

Seasons 52:



If this is what Seasons 52 considers a traditional Thanksgiving dinner, then how about we make it a tradition to eat here every year? Here is their extensive (read: amazing) menu:
Roasted Never Ever* Turkey with Savory Pan Gravy (*never ever been given antibiotics)
Traditional Herb Stuffing
Yukon Mashed Potatoes
Mashed Butternut Squash
French Green Beans
Homemade Cranberry Relish
Pumpkin Pie Mini Indulgence
Wash it all down with one of their seasonal cocktails.

Go ahead and reserve your table now!

Capital Grille: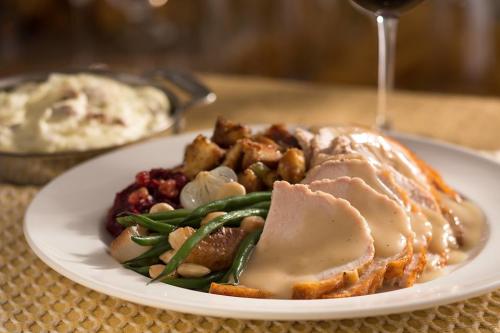 Capital Grille invites you to bring your family and friends to their Thanksgiving table this year. Judging by their menu, don't mind if we do:
Slow-roasted Turkey with Brioche Stuffing
French Green Beans with Marcona Almonds
Cranberry Pear Chutney
Sam's Mashed Potatoes
with Pumpkin Cheesecake for dessert 
Okay, we're ready to claim our seat at the table.



Fleming's Prime Steakhouse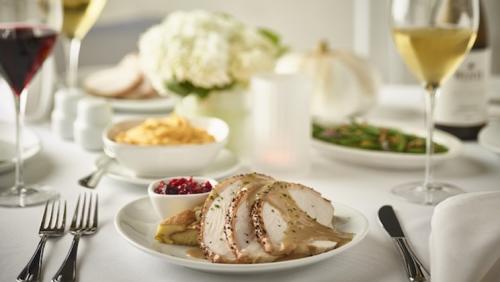 Just because you won't be using your fancy china, doesn't mean you can't have a fancy dinner. Fleming's Prime Steakhouse have a lavish Thanksgiving spread they've put together:


First Course 
Choice of:
Fleming's Salad
Lobster Bisque

Main Course
Mixed Herb Roasted Turkey Breast with Turkey Gravy and Cinnamon-Orange Infused Fresh Cranberry Sauce
OR
Petite Filet Mignon
served with
Savory Housemade Stuffing
Green Beans and Onions

Sides
 Mashed Potatoes

Dessert
Choice of:
Pumpkin Cheesecake (pumpkin spice, gingersnap crust)
Chocolate Gooey Butter Cake (honeycomb brittle, chocolate sauce and caramel)
 
Farm Burger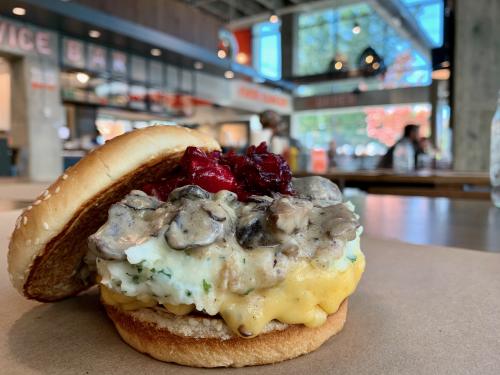 Grab your friends and gather round for a Friendsgiving at Farm Burger! As a gesture of gratefulness to the community, the Dunwoody Farm Burger is offering a host of discounted menu items all day on November 21. The menu will include a Thanksgiving-inspired turkey burger that tastes like nothing you've ever had before, giveaways, family-friendly entertainment, live music and more!
Ordering Out
You handle the decorations and seating availability while a real chef handles the rest (no disrespect to your cooking.)

Alon's Bakery and Market: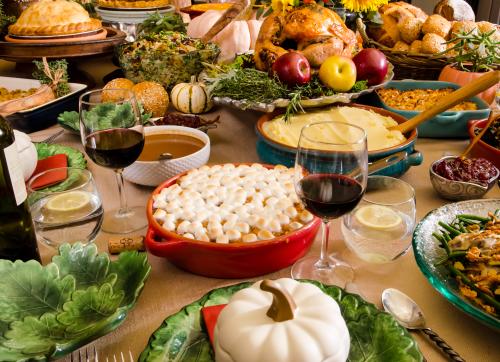 Alon's is easily your one-stop shop for all things edible this Thanksgiving. They are truly a host's best friend by providing options for before the dinner, the main event, sides, breads, and everyone's favorite - desserts. 
 
- Before Dinner -
Keep early guests happy with an antipasto platter, a shrimp cocktail platter, or a holiday cheese board complete with nuts and dried fruits. Early attendees will completely forget about the promise of turkey and dressing with these yummy appetizers laid out.
 
- The Main Attraction -
Ah yes, the turkey. Serving four? Eight? 12? No worries. Alon's put the whole turkey dinner together. Their classic turkey feast includes roasted turkey breast sauce or relish, soup, mixed green salad, roasted garlic mashed potatoes, roasted Brussels sprouts, cornbread dressing or traditional bread stuffing pie, plus rolls and cornbread!

Note: you might need to buy a bigger dining room table.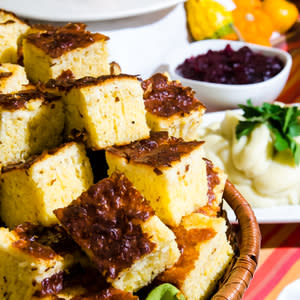 The options don't end there. You can buy sliced turkey breast, an individual all natural roasted turkey or beef tenderloin!
 
- The Sides -
Choosing the sides for your thanksgiving meal is like choosing the ornaments for your tree. They cannot be mediocre, and Alon's side dishes are anything but. Choose from options like macaroni & cheese with sharp cheddar, lentil and quinoa salad, candied sweet potato souffle, and oh so much more.
 
- Desserts -
Hours later after everyone has digested their food, they will come to you looking for dessert. It would truly be a shame to disappoint them after impressing them all the way up to this point. You must give a grand finale.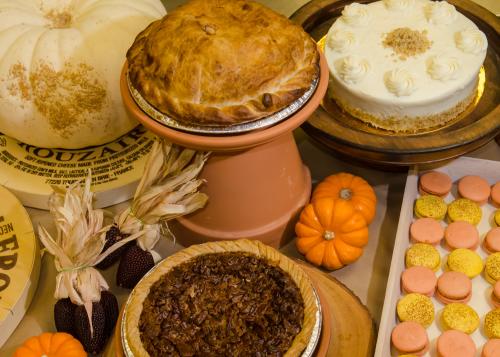 Pies, cakes, strudels, tarts, macaroons, cheesecakes - YOU NAME IT! With flavors ranging from Apple Cranberry and Salted Caramel Apple to Chocolate Chunk Pecan and Pumpkin, your dessert selection is sure to end your night with a decadent bang.
As with anything, the sooner you act the better off you will be! All Thanksgiving orders must be placed and paid for by 5 p.m. on Monday, November 25th.  Craft your Thanksgiving menu now!

A Happy Thanksgiving Indeed



No matter where or how you make Thanksgiving dinner happen this year - you simply cannot go wrong with any of these choices. Just know that you will probably be in charge of Thanksgiving from here on out. With all of these options in Dunwoody to help you go above and beyond, that isn't such a stressful thing after all. Now you have more time to focus on doing good, and feeling good with those you love - and that is truly something to be thankful for.