These are trying times. Finding a semblance of normalcy these days can feel next to impossible. The good news is that you're not alone. We are all in this together, and in times like these, we have to lean on each other. So, we wanted to provide you with some ideas on how to find joy and entertainment. These "trying times" can also be for trying new things.
Parenting
Get your kids out of the house and into another....virtually! Take a family field trip to a number of zoos, museums and historical sites, all from the comfort of your couch. We'd love for you to come to the Dunwoody Nature Center, but for now you can experience some of the same fun at home thanks to their At-Home Night Hikes Activity Guide!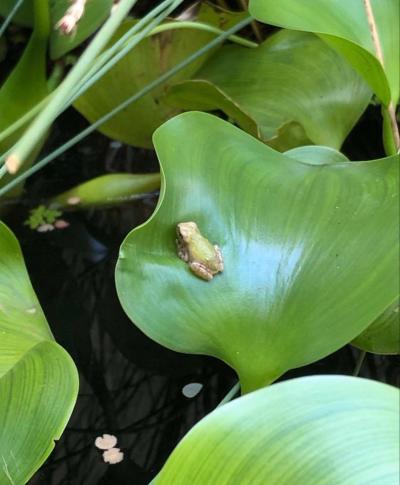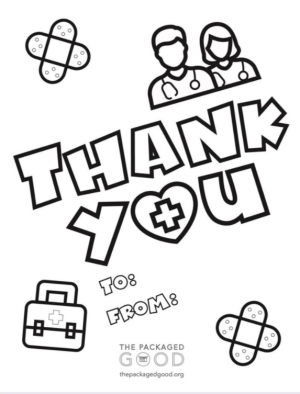 Let's talk about prompts. If anything, this is a prompt for parents to prompt their children. Consider giving your children reading and writing prompts. You can try little cards suggesting what they should write about, or reading BINGO cards for what they should read next. That way, you'll have a plan in place and can visibly see their progression.
 
Have a pARTy! Painting with a Twist has been offering Twist At Home classes where they provide all the art supplies. All you have to do is pick it up and tune in on their Facebook Live to follow along!

 
Writing
We all love getting mail, and if you're anything like us, you've got the stationary! Why not stay in touch with a loved one in a way that carries more weight, literally and figuratively.
 
Keeping a journal is a great way to formulate your thoughts about everything that is happening and keep perspective. Plus, when your grandchildren ask what it was like living through this time period, you'll have a first-hand report.
 
You can also use this time to learn from the best! Masterclass is offering a buy one, get one free deal for you and an inquisitive friend. 
Planning
Planning outfits for the day may seem counterintuitive while working from home, but it can help you focus. It's almost likely your body is remembering being back in the office. Trust us, put on a pair of shoes and see how much more productive you are.
 
Break up the monotony with a themed meal every once in a while. Maybe make Friday nights an event inside your home. Dress for the occasion. Make a cocktail that complements the food. See below for a classic one from the bar at the Atlanta Marriott Perimeter Center. Maybe even set up a virtual hangout with your friends and family like they're eating with you!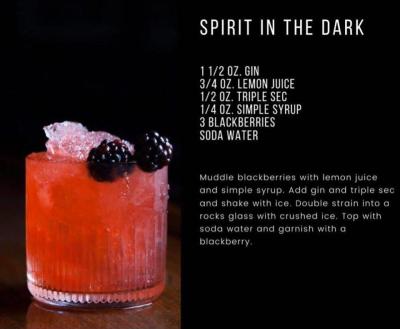 Planning your down time is vital. When you're spending so much time inside, you start to lose that rhythm. In order to maximize your sleep, make sure you're shutting down in a fashion that lets your mind turn off when you close your eyes at night. 

Moving
"Dance like nobody's watching" takes on a whole new meaning in quarantine. Whether it's TikTok or Instagram, there seems to be an endless supply of instructional dance videos out there. Why not burn some calories and make yourself good now? Plus, once this has all passed, you'll have a whole new arsenal of moves for your next wedding reception.
 
If you want more of an actual workout, a number of companies are offering free classes. The Marcus Jewish Community Center of Atlanta has free daily workouts available via their Fitness Facebook page, in addition to 95 free workout videos across eight categories on their website courtesy of Les Mills. You can feel the burn for less money and less awkward eye contact than a normal workout class. Pro Tip: If you want to just do something consistent, give yourself a little goal like 70 pushups a day. Note, you can totally just do 7 sets of 10, peppered throughout your day!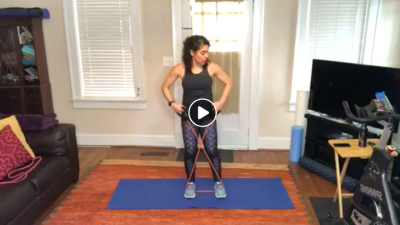 Enjoying
Staying at home doesn't mean you have to stay inside necessarily. Gardening is a great outlet for those looking to get their hands dirty. As the temperatures rise and blossoms bloom, it's a great time to get outdoors. You can still walk the trails at Brook Run Park and the Dunwoody Nature Center. (And if you want to help yourself twice over, may we recommend this Cocktail Garden Kit.)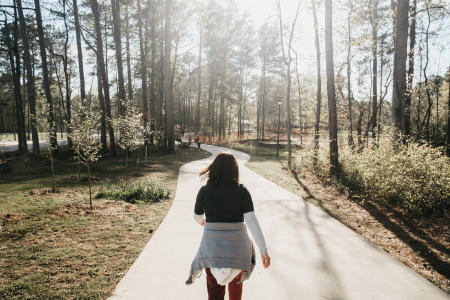 Coloring books aren't just for kids. They're taking the internet by storm and providing hours of entertainment. If you're looking for one that speaks to you specifically, consider hopping over to Etsy and searching for your favorite hobbies! (PRO TIP: Be sure to follow us on social media because we may be releasing some options that hit especially close to home.)
 
While a lot of people are leaning on tech to curb their stay-at-home anxiety, we would like to nominate a more analog method: puzzles! It's a tried and true activity, and they're becoming even more popular; selling at record-breaking numbers. Just get a good one and lose yourself for an afternoon. It's a great way to spend the day while minimizing screen time.
 
Stage Door Theatre knows that you still need your musical fix, despite cancellations or delayed performances. Dunwoody's professional theater is bringing the talent to you with their Stay at Home Concert Series featuring some favorite performers from seasons past. Follow along @dunwoodysdp.
 
Creativity comes in many forms and can offer a few minutes of escape from our new normal. Spruill Center for the Arts is offering virtual classes to get your creativity flowing and can be accessed through this link. Tune in weekdays at 10 am and Monday, Wednesday, and Friday at 4 pm to meet local artists, tour their studios and see what they are doing during this time of quarantine.
 
Give yourself a spa day! Angela Michael Skincare and Spa is selling At-Home Spa kits to get you back looking and feeling like yourself again. Order yours online and feel good knowing that your dollars went towards providing face masks and essential items for healthcare workers.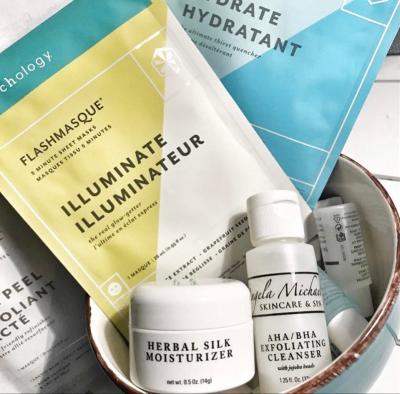 Streaming
It seems like everyone has at least one classic TV show they've never watched before, but now may be the time to start! HBO is currently offering 500 hours of free programming.
 
Netflix's Chrome extension is a great opportunity to watch your favorite movies and TV shows with your favorite people! If you've never tried to coordinate a virtual watch party, sometimes counting down and pressing play at the same time just doesn't cut it. 'Netflix Party' fixes just that.
 
Quibi is a brand-new streaming service, offering a 90-day free trial. Each show is under 10 minutes and designed to be watched on a mobile device. Start watching soon, and you can be the first of your friends to start name-dropping Quibi shows.
Shopping and Dining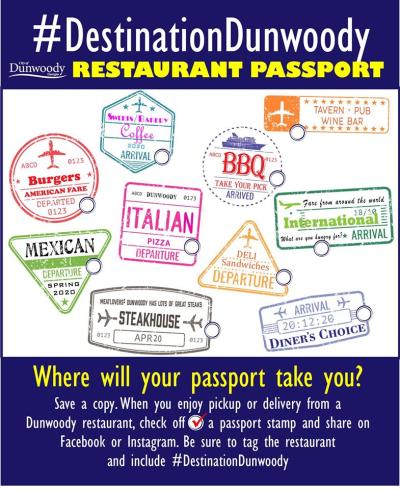 Save this restaurant passport to your phone 📲 + check off each food category stamp as you support our local restaurants by ordering takeout + delivery. ✔️ Post your progress, snap photos 📷, enjoy your food 😋 + share on social media. Be sure to tag the restaurant + use #DestinationDunwoody. 
Get Social With Us on Social Media
These are just a number of ideas we've had to keep yourself occupied at home. Follow @DiscoverDunwoody on Facebook and Instagram to stay connected with our community. Share your favorite moments with us on social media. Be safe. Be well. We'll get through this together!