We are naming June as Dunwoody Restaurant Revamp Month and whether you are ready to dine in or prefer to continue carrying out, we encourage you to show your support within your comfort level and dine around town June 1-30. Here's what you can expect:
Burgers and Sandwiches
Burgers and sandwiches are the cornerstone of American cuisine. Get the freshest burgers around at Farm Burger. All their food is grass-fed, so you'll walk away feeling well-fed.
See what all the rave is about and have yourself a NFA Burger during Dunwoody Restaurant Month. It's the burger joint located inside a Chevron gas station that's gone viral. It's taken both Dunwoody and Metro Atlanta by storm, and it's guaranteed to take you by storm as well. 😋🍔 Just don't ask for ketchup. It'll cost you $1M. Their rules.
 

And of course you can never go wrong with Dunwoody's beloved Village Burger. Have one with seasoned fries (dipped in VB sauce of course), and their irresistible custard because there's never a wrong time to indulge. Odds are you were already planning on going there several times this month anyway. 
 
Pizza and Pasta
Craving Italian? You won't be for much longer! For a local and charming mom-and-pop marketplace, we recommend E. 48th Street Market. This family owned and operated store also doubles as a restaurant serving Italian sandwiches, desserts, homemade pastas, and casseroles. Romantics frequent Carbonara Trattoria for its ambiance reminiscent of Italy and its carefully selected menu to match. For a family-style and slightly more filling experience, try Novo Cucina who is known for their pizzas, salads, pastas, and homemade gelato.

Get stuffed over at Nancy's Pizzeria with their out of this world deep dish Chicago pizza. Cross over to the California side of the pizza oven at California Pizza Kitchen, or go gourmet with Mellow Mushroom.

We know it's challenging to decide between all of these restaurants, but that's why we gave you an entire month to work with. With that being said, let's keep going!

Global Cuisines
It may be Dunwoody Restaurant Month, but our dining experiences take you far beyond the state line. Pull up a seat and take a culinary tour around the world at these Dunwoody favorites - no passport required!
Find some of Atlanta's best Indian food at Viceroy Royal Indian Dining and Bay Leaf Indian Restaurant. For a taste of Greece, pay a visit to Grecian Gyro or Gyro Gyro for one of their namesake gyros or a delicious falafel. Craving more Mediterranean? Cafe Sababa's chicken shawarma and lamb burger will have you coming back each week.
Add some Spanish flair to your palate with tapas from Eclipse Di Luna, or have a fiesta with authentic Mexican dining at El Azteca in Dunwoody Village! Enjoy tacos on Tuesday and beyond at Chuy's and Cinco's. Both have unbelievable Mexican options that will send you into the best siesta you've ever had. Some of the best Mexican food you'll ever have awaits at Taqueria Los Hermanos, and they're new to the Dunwoody restaurant scene. The month of June is the perfect time to check them out.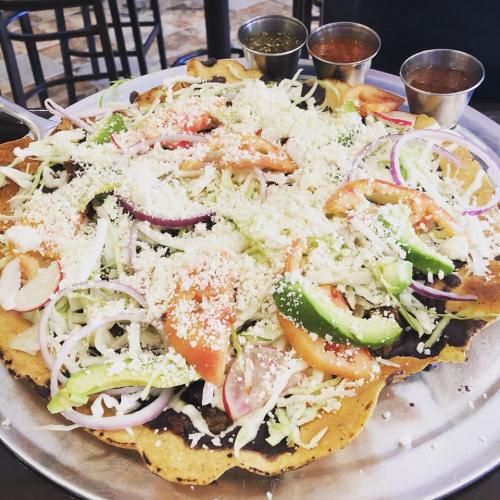 If you have a taste for Asian cuisine, pay Nai Thai Cuisine, Eastern China Taste, and Singha 99 Thai Street Foods a visit. All three are big hits around town and sure to please. Trying to accommodate multiple palates in one household? Try Takorea for some Asian-Korean fusion, or give Breakers Korean BBQ a go. And for all you Hibachi lovers out there, Taki Japanese Steakhouse will serve you something spectacular.
Curious palates seeking the very best from all over should eat at Portico Global Cuisine. Located inside our Le Meridien Atlanta Perimeter hotel, this swanky and eclectic restaurant offers a contemporary twist on worldwide favorite dishes. 
 

Cafes and Coffeehouses
Explore European fare at Alon's Bakery and Market and Cafe Intermezzo. Both have the best coffee, breakfast, lunch, and you guessed it - dinner too. Cozy up for lunch or dinner at Crema Espresso Gourmet. This cafe serves more than just coffee, and restaurant month is the perfect time to explore their other just as satisfying menu options. 
 
Wine and Dine
Eat, drink, and be merry at Vino Venue. This restaurant and wine bar is both widely known around Atlanta and a local favorite. With a menu that is just as impressive as their wine selection, Vino Venue is always tough to pass up.
Bars, Brews, and BBQ
Keep things cool and casual with our bar options. Take your pick between The Bird and The Brass Tap for amazing specials to accompany your lunch or dinner, or watch the game and make new friends at Gilly's - Dunwoody's neighborhood bar that serves the best wings in town. Speaking of the best, Moondog Growlers is the best happy hour spot around. Take a growler to-go because who says you can't have your favorite beer on tap on your couch also? Have your own Tavern takeover throughout the month with Dunwoody Tavern, King George Tavern, O'Brian's Tavern, Marlow's Tavern, and the Duke of Wellington Pub.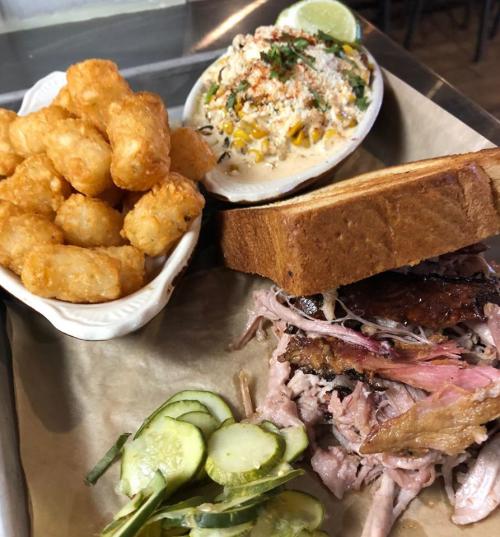 Some of the best tasting brews come with a side of BBQ. Enjoy a plate of Memphis Barbecue Company's famous BBQ Nachos, or indulge in their Donut Bacon Burger. Yes, you read that right. The grilled grub doesn't end there. Porter BBQ and Brewery has smoked sausage hoagies, Brunswick stew, and all the fall-off-the-bone goodness your tastebuds could ask for. 
 
Steakhouses
Restaurant Week will have no shortage of steak this year with several of Atlanta's finest serving up cuts. It's not every day that you can enjoy a premium steak with all the side fixins for less, so you definitely don't want to pass up a visit to McKendrick's Steak House, The Capital Grille, Fleming's Prime Steakhouse, Del Frisco's Double Eagle Steakhouse or Fogo de Chao. Our best advice is to pace yourself. With so much to enjoy at such a small cost, you're going to want to savor every juicy bite.
Something for Everybody
Eating with a group of people who all have a taste for something different? Go somewhere all-encompassing, with all the shareable items. Enjoy the flavors of summer with a seasonally-inspired menu from Seasons 52, or keep things evergreen at HOBNOB Neighborhood Tavern, J. Alexander's, and Joey D's Oak Room.

Just Desserts
Take your sweet tooth over to any of the following sweet shoppes for the best treats in the perimeter. Who can turn down cookies? Especially those from Ali's Cookies. Not us. We're willing to bet not you either. Shake things up with some creamy coolness from Shake Shack or Four Fat Cows. The Cheesecake Factory never misses and neither does the carousel of cakes from Cafe Intermezzo. But when it comes to pastries, Alon's Bakery and Market and Zukerino Pastry Shop are king and queen. Their fresh baked goodies are the cherry on top of any and every meal.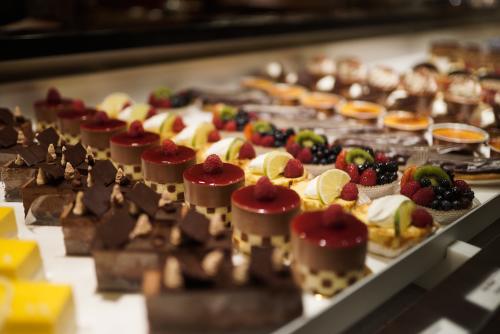 Clean Finish
So you've packed a lot of food into a little time and now you're feeling guilty. We're not judging, but we totally get it. Go out with a clean finish with a variety of healthy options. Load up on Acai, superfoods, and smoothies and wrap up your month with Press Blend Squeeze to feel happy and healthy about all the yummy choices you made. 

Give Us A Bite
Whatever you're in the mood for, Dunwoody Restaurant Revamp Month has it. No but really - check out our this full list of restaurants to start meal planning. Morning, noon, or night, we encourage you to experience as many of our restaurants as humanly possible. You'll discover that they each go above and beyond, because that's kind of Dunwoody's thing. As you dine around town during June, be sure to share your food pics with us using #DunwoodyRestaurantRevamp. We'll give you a shout out!