No matter how glamorous the job, business travel can be challenging. The workload. The planning. The travel. It can be a lot, but let's flip the narrative. Business travel presents a fun opportunity to see different places on the company dime. So make the most of it. For your next business trip, get the most bang for your (and your boss') buck in Dunwoody!
So, first things first, where should you stay? Dunwoody has a number of hotels that will put you right in the heart of all the Atlanta-area action. If you are a road warrior looking to treat yourself, the Crowne Plaza Atlanta Perimeter at Ravinia and its near 500 guest rooms and 30,000 square feet of meeting space could be your best bet. Tucked into the naturally wooded 45-acre "Ravinia Complex," the Plaza comes with its own fine and casual dining, as well as easy accessibility to Atlanta Perimeter's dining and nightlife. Want to stay in? The Backyard at Parkwoods offers an outdoor oasis complete with yard games, live music and locally sourced craft beer.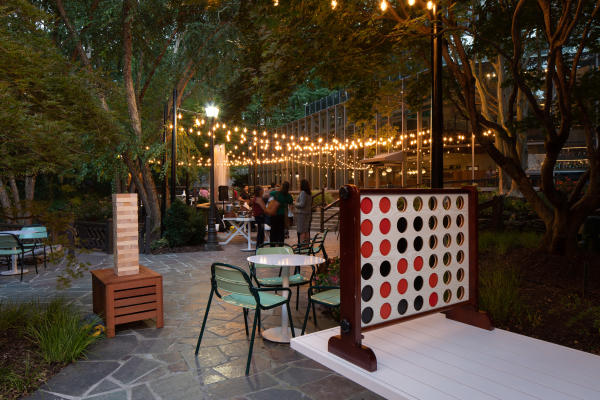 If the family is tagging along during your trip, the Residence Inn, Hampton Inn and Suites or Sonesta ES Suites, all offer the perfect amenities for groups of any size including breakfast buffets, pools and large living quarters. For guests looking to elevate their visit, we suggest checking-in to the Hyatt Place Atlanta Perimeter Center or AC Hotel Atlanta Perimeter, each equipped with stellar views and lively atmospheres. No car? No problem. All of Dunwoody's hotels are walking distance to Atlanta's top restaurants, retailers and nightlife so you can live it up while staying close to your lodging. For those looking to explore beyond Dunwoody, MARTA is easily accessible by foot to all hotels or a quick (and complimentary) shuttle ride from your hotel of choice.
So now that we know where you are staying, let's figure out where you are playing. Art exhibits? Ziplining? Yoga? Dunwoody has countless opportunities to leave your work stresses behind.


Discover your inner artist at the Southeast's largest community education center. The Spruill Center for the Arts offers dozens of workshops, classes and camps for everyone to enjoy. Love the theater? The Stage Door Theatre offers a full season of compelling works and is located adjacent to the Spruill education center so you can easily add some art and culture to your agenda.
For those looking to really branch out, Treetop Quest offers ample adrenaline spikes for thrill seekers. However, if you're looking to nama-stay closer to the ground, the Donaldson-Bannister Farm offers yoga and fitness classes in a perfectly serene setting.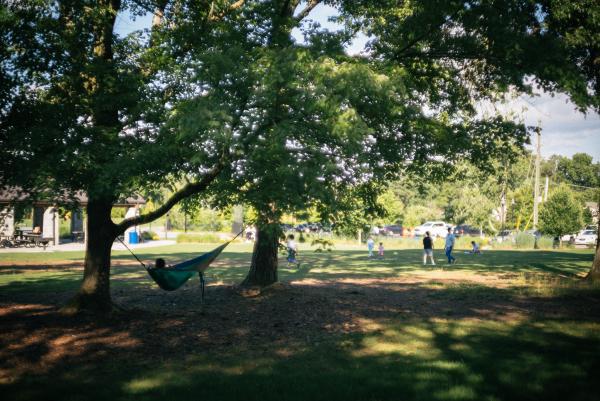 If the last two options sound too good to be true, but you want to meet in the middle, consider one of our many awesome parks. With beautiful creeks, hiking paths and biking trails, you can cleanse yourself from your work troubles and even relax in a hammock garden at the Dunwoody Nature Center. For those extending their stay for a nice family vacay, the kids will love the Children's Playground at Brook Run Park or the abundance of green space perfect for picnics at Pernoshal Park. Whatever your adventure style, Dunwoody offers miles of green space and plenty of fresh air to go around.
And if you're more inclined to exercise your wallet, Dunwoody's shopping scene has everything you are looking for. Anchored by the Perimeter Mall, Dunwoody has a wonderful variety of stores and boutiques. All the while, you're just a short ride away from Atlanta's Lenox Square and Phipps Plaza, featuring all the high-end shopping your heart desires. Regardless of where you go, we promise you won't leave empty-handed.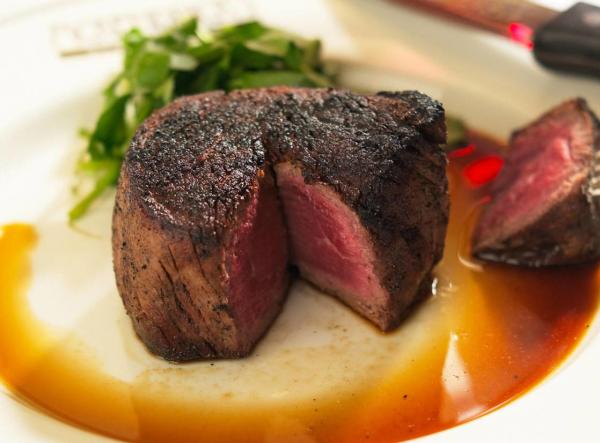 Finally, let's address possibly our favorite thing about Dunwoody: the food! With an ever-changing selection of places to eat, drink, and indulge, our restaurant scene is a dynamic foodie's paradise. Also, the metaphoric cherry on top: Many of our restaurants, eateries, and cafes are located within walking distance of Dunwoody hotels and the MARTA transit system, making it easy to get wherever and see whatever you want in metro Atlanta.
To make your decisions even easier, here's a breakdown of some of Dunwoody's finest:
Dunwoody brings Atlanta to a whole new level by being the perfect home away from home. Don't let yourself get too bogged down with work. Plan ahead, venture out and find new favorites. You'll see yourself in a new light and with so many great options, your next work trip to Dunwoody will be one you'll never forget.