Easter weekend is an exciting time for everyone- kids love the thrill of hunting for those colorful little eggs filled with the most delicious treats while parents and grandparents look forward to dressing the little ones in their Easter bonnets and britches (insert cheek pinches here). But beyond the eggs and outfits, Easter weekend is always a great time to bond with family from near and far. If gathering everyone together seems daunting, we are here to help you as you hunt for ways to make the most of your springtime weekend together. Fill your basket and soul as you explore Dunwoody, Georgia this Easter weekend! Make it different and make it fun- the memories will be worth it.
Easter Picture Spots
Ahh April... flowers and greenery are in full bloom which makes those family photos extra special. With clean kids, classic outfits, and everyone together, there is no better time than Easter to snap that selfie and capture these memories on camera. This year, we recommend sprucing up your backdrop and visiting some iconic spots in the community for a picture that is truly special.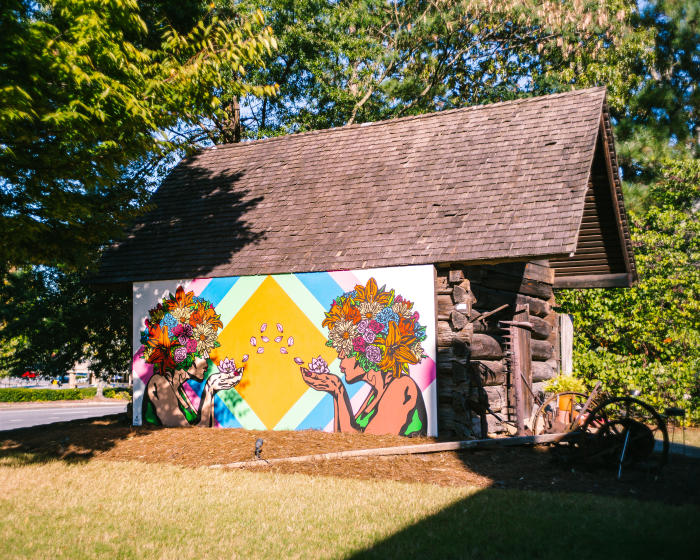 Local artists have crafted some magical murals that are brightening every corner of our esteemed City. These murals will make fantastic backdrops to your family photos and all of them offer a different feel. Looking for a farmhouse vibe? A visit to Donaldson-Bannister Farm will have you feeling nostalgic and inspired with a number of great visuals perfect for your photos. Place the Farmhouse as your background or meander through the gardens for those Insa-worthy shots of the kids. Either way, your family photos are sure to shine.
DUNWOODY EASTER EGG: Dunwoody's Community Garden at Brook Run Park includes an easily-accessible photo stand-in that is perfect for silly photos with the family. Take turns placing your face in the cutouts watch the fun unfold. You're sure to cherish these non-traditional family photos for years to come.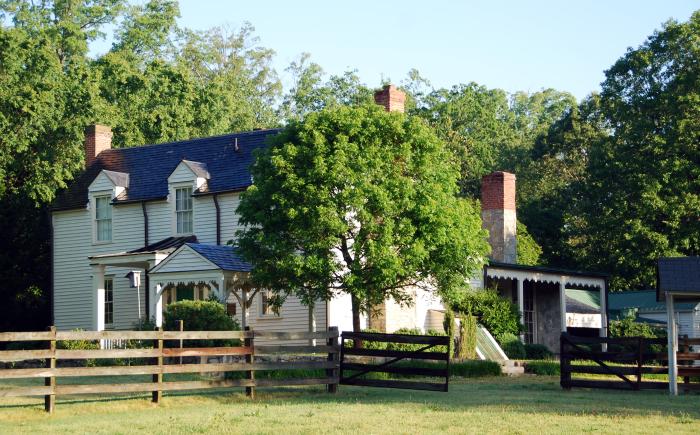 Picnic Perfect
Kids have endless energy and after indulging in those Easter egg treats, kids and parents are going to need some open air and spaces to get that energy out (after you capture those cute photos of course). Go beyond the typical Easter lunch or dinner at home and dine al fresco at any of Dunwoody's fantastic parks. We know springtime weather can be unpredictable but Dunwoody's parks offer the opportunity to enjoy the outdoors, rain or shine.  Our recommendations are to venture to the sprawling Brook Run Park, the peaceful meadow at the Dunwoody Nature Center and the charming Pernoshal Park, all complete with covered spaces and open spaces, perfect for whatever the weather will hold.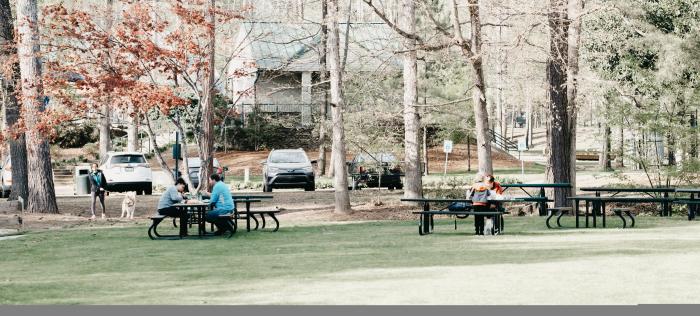 Not quite sure what to pack? Play clothes, games, gourmet cheeses, crackers, small bites, and sweets are some of the picnic essentials that we recommend but let's take it to the next level. E. 48th Street Market should be your first stop as you will quickly discover breads, cheeses, desserts, and food items that will fill your baskets and bellies. Grab a beautiful (and delectable) cake from Cafe Intermezzo or visit Ali's Cookies for an assortment of delicious cookies. For the main course, venture to Breadwinner Cafe for sandwiches and sides that are sure to spice up your Easter picnic baskets and satisfy every palate.
DUNWOODY EASTER EGG: Dunwoody is filled with colorful picnic tables scattered throughout the City. These beautiful works of art were sponsored by various businesses in the community and were designed to showcase meaningful messages and artwork authentic to that establishment. See how many you can find and learn more here!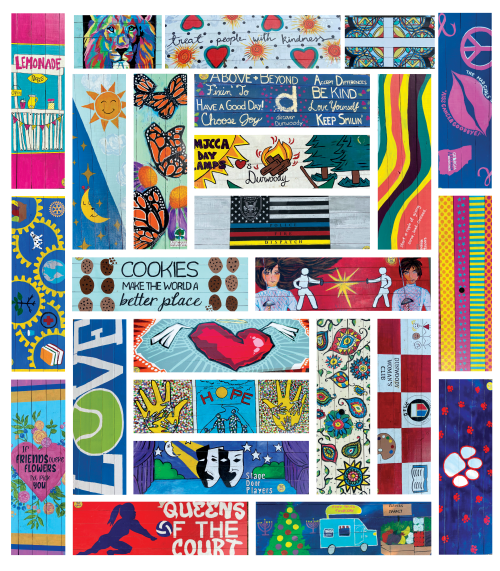 Fill Your Bags and Baskets
Hunt for treats of all kinds in Dunwoody and fill your baskets and bags with wonderful keepsakes that you will treasure long after the weekend ends. Looking for home decor? The Enchanted Forest is filled with seasonal items that are sure to make a statement. If you are visiting a friend or family member this Easter, be sure to stop by Under the Pecan Tree, your one stop shop for all hostess and specialty gifts. Put some spring in your step and wardrobe with a visit to the second largest mall in the state, located right here in Dunwoody. Perimeter Mall serves as a treasuring hunting mecca and offers over 150 retailers and restaurants onsite. For a tasty treat, hop over to E. 48th Street Market for goodies that will brighten up your Easter table and bring a smile to all faces. Treasure hunting is extra special in Dunwoody as these establishments and more offer the gifts that you seek, hidden in plain sight.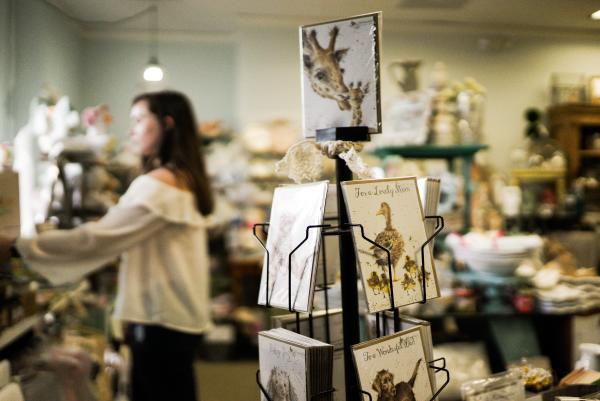 DUNWOODY EASTER EGG: Spruill Gallery and Gift Shop is a true Dunwoody treasure. This historic home is a cultural experience and one of our "must-sees" as you are sure to discover something new each time you visit. Snap some pictures in the sculpture garden (watch out for the big spider!) or simply pop in to stroll through the halls of this charming artist escape. And if you're looking for one-of-a-kind treasures, look no further than the gift shop where you are sure to get lost in the gifts and artwork on display.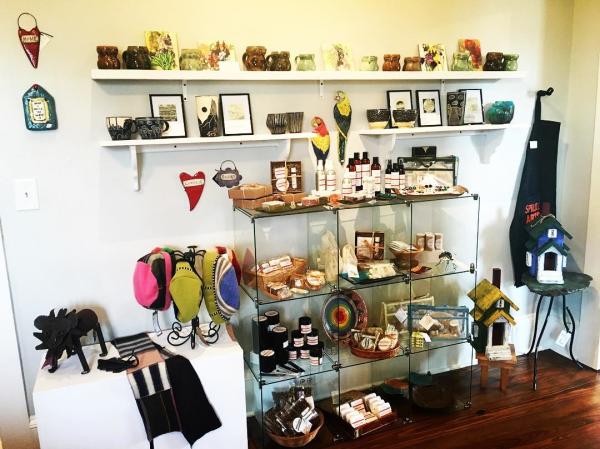 Spring into a weekend filled with Easter fun for the whole family, while enjoying a destination that is above and beyond what you might expect. Share you experiences using #DiscoverDunwoody and let us know how fill your baskets and weekend (and we also wouldn't mind seeing those sweet kids donning their Easter best). Easter eggs are hidden everywhere here, all you have to do is look for them. "Hoppy" Easter!