This November, Stage Door Theatre in Dunwoody outside of Atlanta is ready to delight audiences of all ages with a double dose of entertainment that offers something for everyone. From beloved Disney characters in "Disney's Descendants, The Musical" to a side-splitting comedy show adults will enjoy with Dad's Garage, there's a little magic and a lot of laughter for everyone. Here's more of what this beloved local  Stage Door Theatre is offering this November.
Step into the magical world of Disney with "Disney's Descendants, The Musical" from November 10-12, 2023. This brand-new theatrical experience promises an enchanting journey filled with comedy, adventure, beloved Disney characters, and hit songs from the popular Disney Channel Original Movies. It's a must-see production that's perfect for audiences of all ages.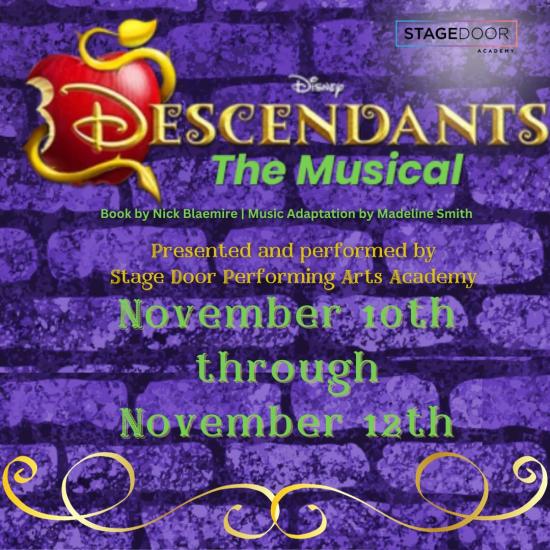 "Disney's Descendants, The Musical" tells the story of four young teenagers who are imprisoned on the Isle of the Lost, a place that's home to the offspring of some of the most notorious Disney villains ever known – Maleficent, the Evil Queen, Jafar, and Cruella De Vil. Living their lives in isolation on this treacherous island, the young descendants of evil have never ventured beyond its borders. But that's all about to change.
When an opportunity arises for these four troublemakers to attend a prestigious prep school alongside the children of beloved Disney heroes, they are faced with a difficult choice. Should they follow in the wicked footsteps of their notorious parents, or will they embrace the opportunity to learn how to be good? The stage will be set for an epic battle of values and identity as these young characters navigate the fine line between good and evil.
This synopsis might sound familiar if you have kids or are a kid at heart: "The Descendants" is a beloved Disney movie series that resonated with audiences of all ages. Check out the famous characters you know and their descendants that you will come to know in this musical. 
This thrilling local musical brings the story to life with a mix of catchy tunes and spirited choreography. As the young descendants grapple with their destinies, audiences will be taken on a rollercoaster of emotions, from laughter to heartwarming moments, all set against the backdrop of a world where Disney magic reigns supreme.
"Disney's Descendants, The Musical" has a runtime of approximately 90 minutes, making it the perfect length to captivate both kids and adults. It's an ideal family outing, so gather your loved ones and prepare to be transported to the magical world of Disney. Make it a weekend of Disney fun and visit CAMP, the best Disney toy store and immersive show in the city.
The November excitement doesn't end with "Disney's Descendants." Stage Door Theatre is thrilled to host the Dad's Garage improv troupe for six incredible performances throughout the year with  spontaneous and uproarious comedy. You won't want to miss their next show "A Night with Dads 2: The Daddening" on November 18, 2023.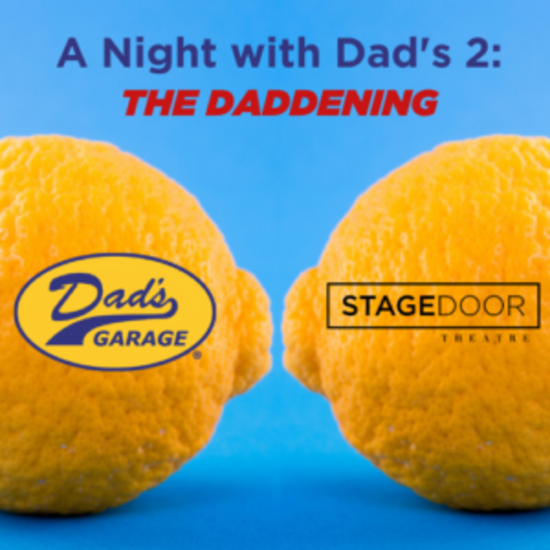 Dad's Garage, founded in 1995, is an award-winning non-profit theatre company based in Atlanta's historic Old Fourth Ward. Dad's Garage has become a cultural cornerstone, attracting over 30,000 people each year to its public events and festivals across the globe. What sets Dad's Garage apart is its dedication to serving a younger demographic. They continue to bring fresh energy to the neighborhood while building a new generation of arts consumers.
The Dad's Garage improv show promises to bring the best in comedy to Dunwoody. With a runtime of approximately 75 minutes, including one intermission, you'll be treated to a night of laughter, spontaneity, and wit. The talented performers of Dad's Garage will have you rolling in the aisles with their unscripted and unpredictable humor.
Make sure to mark your calendar for these two fantastic events happening at Stage Door Theatre in November. "Disney's Descendants, The Musical" and the Dad's Garage improv show offer a diverse range of entertainment, ensuring an unforgettable experience for everyone who attends.
Stage Door Theatre in Dunwoody is pulling out all the stops to deliver top-notch entertainment this November. Whether you're a Disney fan or in the mood for some side-splitting laughter, these events are tailor-made for a month of entertainment you won't want to miss. Be sure to grab your tickets and be part of the magic and hilarity at Stage Door Theatre in November!
Follow @DiscoverDunwoody on TikTok, Facebook, X, Instagram to learn more about what Dunwoody has to offer, just minutes from Atlanta.