The kids are out of school for a whole week, and you're not sure how to keep them busy. It sounds like a parental nightmare, but we are here to tell you everything will be okay. Just head 10 miles outside of Atlanta, and let the road lead you to Dunwoody - the perfect spring break destination you may not have known about! Let's start planning that itinerary, shall we?
With a few days at your disposal and much to see and do in Dunwoody, we highly suggest booking a stay with the kids at any of our hotels. Do some research to decide which one best fits your family because each one truly offers a different experience!
As far as food goes, Dunwoody is widely known for our selection of restaurants, so we put together a complete index for you and the family to browse through. Go ahead and pencil in Village Burger for at least one meal. They're known for their burgers and hot dogs, but their breakfast menu has earned bragging rights too. Village Burger is a hit for family dining, and their frozen custard consistently brings joy to young, adorable faces.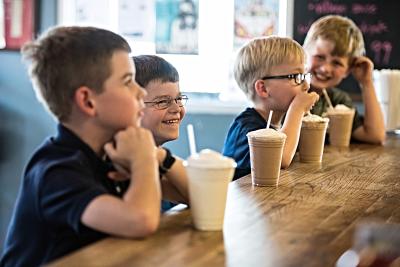 Now that we've covered places to stay and places to eat, let us provide you with some places to go! As a parent, the key to planning a successful spring break is to offer a little education and a lot of fun.
First stop - The Dunwoody Nature Center for some adventures and animals: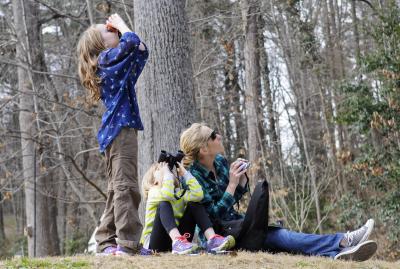 The Dunwoody Nature Center puts the fun in learning with endless opportunities to channel your inner outdoor explorer.
If you're looking for group activities, they have plenty. There are Mommy, Me, and Nature classes and a spring break camp that may pique your interest, but we're most excited about EcoExplorers on Saturday, April 9! Kids, along with their adult partner, will participate in a super fun and interactive class involving insect-themed crafts, activity stations, circle time, and a hike.
For a real wildlife adventure, you and the family should test your navigational skills and try letterboxing! Letterboxing is a treasure hunt that includes a clue sheet, park map, and eight letterboxes already hidden throughout the park.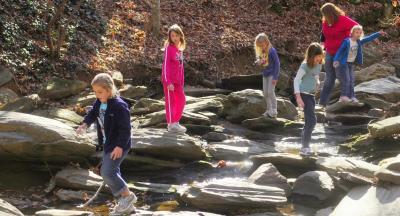 Geocaching is a another outdoor treasure hunting game the kids will enjoy. This one employs GPS-enabled devices that navigate you to a specific point where you'll have to find a hidden geocache, or container, at that location. It's a fun and competitive way to learn your way around the park, stimulate your brain, and get in a little exercise.
Next stop - Brook Run Park for some food truckin' and high-flyin'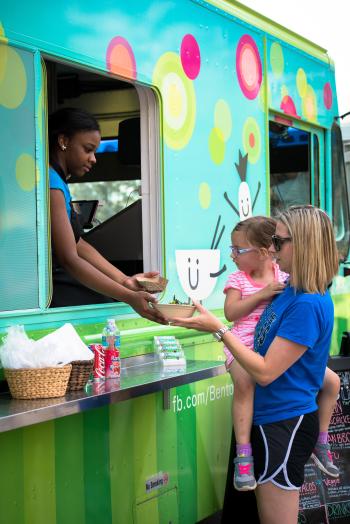 Brook Run is not your average park. There's 102 acres, a multi-use trail for walking, running, and biking, a dog park, skateboard park, and on Thursdays evenings it becomes a food truck park! However, the most exciting feature that sets it apart from any other park you've ever been to is Treetop Quest - Dunwoody's very own zip-lining and obstacle attraction!
Treetop Quest allows you to fly 55 feet above the ground with zip-lines stretching more than 200 feet. Courses range in difficulty from easy to very challenging so everyone can get in on the fun! Don't worry, it is highly secured and equipped to handle anyone age 7 and up. There's also Kiddie Quest for the 4 to 6 aged spring break crowd.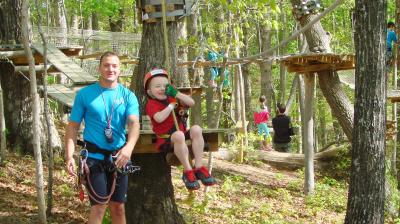 Participants can swing as many times as they like for up to 2.5 hours (according to age limit) but make sure to wear closed toe shoes! Book your reservation at least 24 hours in advance and find out more about ticket prices here.
Who knew you could have so much fun just outside of Atlanta? Check out our attractions page for even more spring break ideas. Take plenty of pictures so the kids will have lots to show and tell when they return to school!
We'd love to see your photos too. Post them on social media with the tags #OutsideAtlanta and #DiscoverDunwoody. We'll feature them on our social media and give you a special shout out!