Every few years a new workout takes our country by storm. You know the ones. Crossfit. Zumba. Jazzercise for Dads. It's summer and that means folks are looking for the latest way to get that blood pumping. This unbiased Dunwoody writer is here to tell you all about the best, new workout: The Dunwoody Summer Workout That Everybody's Doing TM.  You know it's good exercise because just saying it is a workout in and of itself.Dust off the braided headband, dig up those short shorts, and let's go.
 
Brook Run Park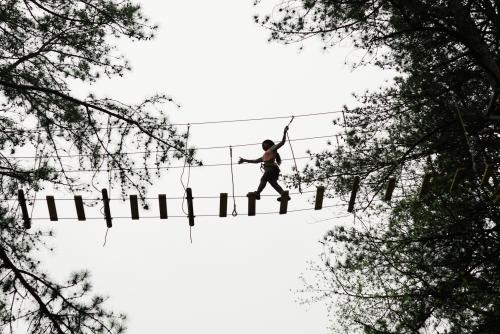 2x Playground Slides
6x Monkey Bars
4x Zip Lines
Head to Brook Run Park to kick off the workout. Those Crossfit folks may be sprinting around the loop trail, but we recommend a few slides at the playground and a bunch of money bar races. Toss in a couple of bonus activities if you feel up to it. Pace yourself because the Treetop Quest obstacle course is the adrenaline rush you need to keep going. Zip line down and be on your way to the next exercise.
 
Perimeter Mall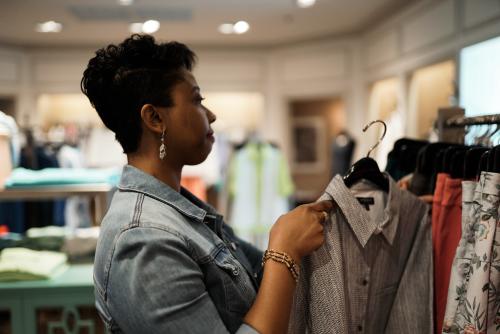 3x Mall Loops
Follow these instructions for flawless form: Left foot, right foot, left foot, right foot, stop to shop, left foot, right foot, stop to shop again, left foot...
Walking is good exercise, but walking through Perimeter Mall is GREAT exercise especially when you have to exercise self control to not get that 70%-off pair of shoes. Go ahead and get 'em. Exercise can be exhausting.
 
Dunwoody Nature Center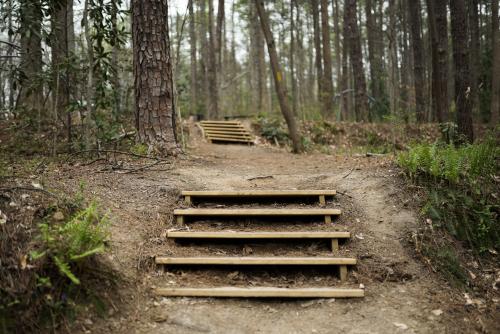 3x Tree House Climbs
1x Stroll Past a Real Native American Teepee
Shopping is done, but your workout isn't. Keep it up! Climb that tree house at the Dunwoody Nature Center for a stunning view before checking out that authentic Native American Teepee. Need a water break? Relax for a bit at the hammock garden or set up with binoculars to watch the birds. Recovery is important. Catch your breath, and let's keep going.

Pernoshal Park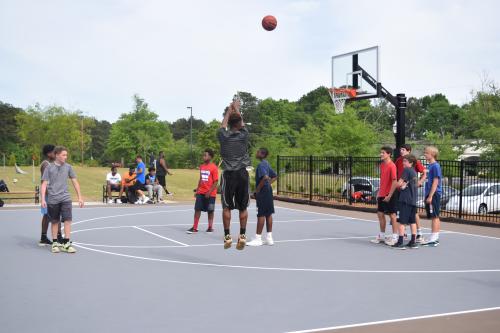 2x Rounds of Pickleball
Hop out of that hammock and head to Pernoshal Park to finish your workout. You'll find full-size basketball courts like the one pictured above, an open field for Frisbee or soccer and a handful of other things to do in the park. What makes this workout park unique, though, is the Pickleball court. Pickleball is a paddle sport created for all ages and skill levels. Whether you're a beginner or an expert, it's the perfect way to end The Dunwoody Summer Workout That Everybody's Doing TM.

Stretch. Hydrate. Repeat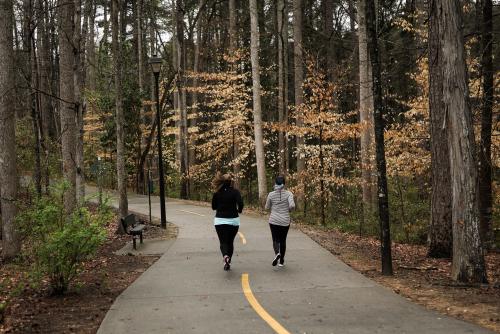 Whew. What a workout. What's that? It didn't feel like a workout? It was fun and you would do it again and tell all your friends about it? Well, that's great news! Tell your friends. Try new things at the different workout spots or create your own Dunwoody workout as you explore around town. We've got a great trail system that stretches across three distinctive Dunwoody parks: Brook Run Park, Pernoshal Park, and Georgetown Park. Covering an estimated 2.76 total miles, the Dunwoody Trailway offers loops, straightaways and curves providing walkers, runners, strollers and bikers with scenic passage through some of the city's most peaceful and picturesque landscapes.It's the perfect way to elevate your workout even further. Don't forget to stretch, drink lots of water and let Dad know you can't make Jazzercise because you've got another workout planned. We'll see you out there.