Dunwoody's favorite summer festival is back, and we have butterflies just thinking about it. The 25th Annual Butterfly Festival will make its way to the Dunwoody Nature Center on Saturday, August 17, and if you call yourself a nature lover, then you will too. Not only will you have the chance to hand feed butterflies, but you'll also get to see birds, lizards, and who knows what else! Come rain, come shine, come to Dunwoody for this fun family festival just outside Atlanta.
From 10 a.m. to 4 p.m., there will be games, crafts, live music, concession stands, a magic show - oh, and the butterflies! Three enormous tents will be on site - each filled with butterflies and plants for them to feed on. Visitors are given foam brushes with a sugary substance like Gatorade to attract the butterflies. Groups of 20 people are allowed into the tents for seven to 10 minutes at a time. For those who may be afraid of butterflies, this is a fun way to overcome your fear and make friends with these beautiful and harmless bugs! Pre-purchased tickets (available here while they last) are $8 for adults and $4 for kids ages 4-12. Children ages 3 and under get in free!
Buying tickets ahead of time is the ONLY way to guarantee tent entry at a time that is convenient for you. Those who purchase their tickets the day of will have access on a first-come, first-serve basis (and pay a higher ticket price) until capacity is reached. All other festival activities will be available all day long.
Beyond the butterflies, there will be two opportunities to catch a Birds of Prey show at the main stage in addition to a live animal encounter in the meadow. Observe, marvel, and even touch various creatures that you typically don't get to see up close and personal!
Please note there will be NO parking at the nature center, except for handicap access. It is highly recommended to take advantage of the continuous shuttle service that will be running throughout the day at 5676 Roberts Drive. Parking is also available on a limited basis at nearby New Hope Church located at 5477 Roberts Drive, and Austin Elementary School. Plan ahead at least 30 minutes early to allow yourself time to get parked, grab a shuttle, and get your hand stamped prior to your tent entry. There will be plenty of time to take in everything else the festival has to offer before and after your butterfly encounter!
The best photos always come from this event, so you absolutely must take some and share them with us! You might even be able to capture a coveted butterfly selfie. Tag your photos with #DiscoverDunwoody and we'll show them some extra love on our social media!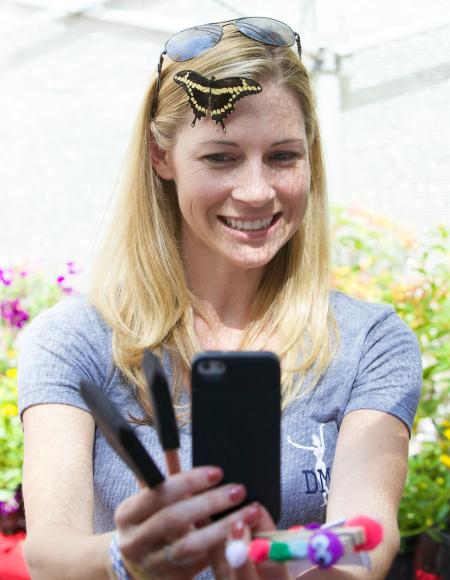 Come see why the Butterfly Festival continues to make hearts flutter every year for over two decades. It's one of many things on the list of things to do here in Dunwoody.