Located within the forested haven of Dunwoody, Georgia, lies a food lover's paradise that comes alive every Thursday evening. Food Truck Thursdays at Brook Run Park have become a beloved tradition, offering a diverse array of delectable dishes, a vibrant atmosphere with live music, and a sense of community that brings people together to savor the flavors and experiences that only food trucks can provide.
Brook Run Park transforms into a culinary carnival every Thursday, where the air is filled with tantalizing aromas and the sight of colorful food trucks. From gourmet burgers to international cuisine, the options are as diverse as the community itself. Imagine indulging in spicy Thai street food from Bow Thai, savoring the rich and comforting taste of a homemade Southern meal from Willie B's, or treating your taste buds to a fusion of America and Asian cuisines like EggRoll BoyZ. Whether you're a dedicated foodie or simply seeking a delightful meal, Food Truck Thursdays have something to satisfy every palate right in the heart of Dunwoody.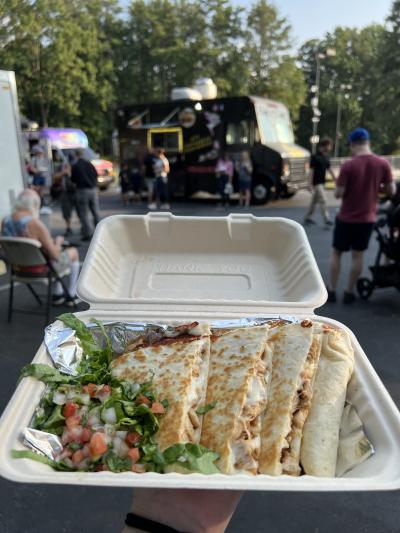 Beyond the mouthwatering food, Food Truck Thursdays foster a sense of community that's truly heartwarming. Families gather for quality time, friends catch up over shared meals, and newcomers find a welcoming environment to connect with fellow residents. The park's open spaces provide the perfect setting for picnics, socializing, and enjoying live music that often accompanies the food truck extravaganza.
It's not just about main courses at Food Truck Thursdays; the event also boasts a delightful selection of artisanal treats. Indulge your sweet tooth with handcrafted ice creams and popsicles from King of Pops or delectable tiny donuts from Simply Done Donuts. These delectable desserts are the perfect way to end the night.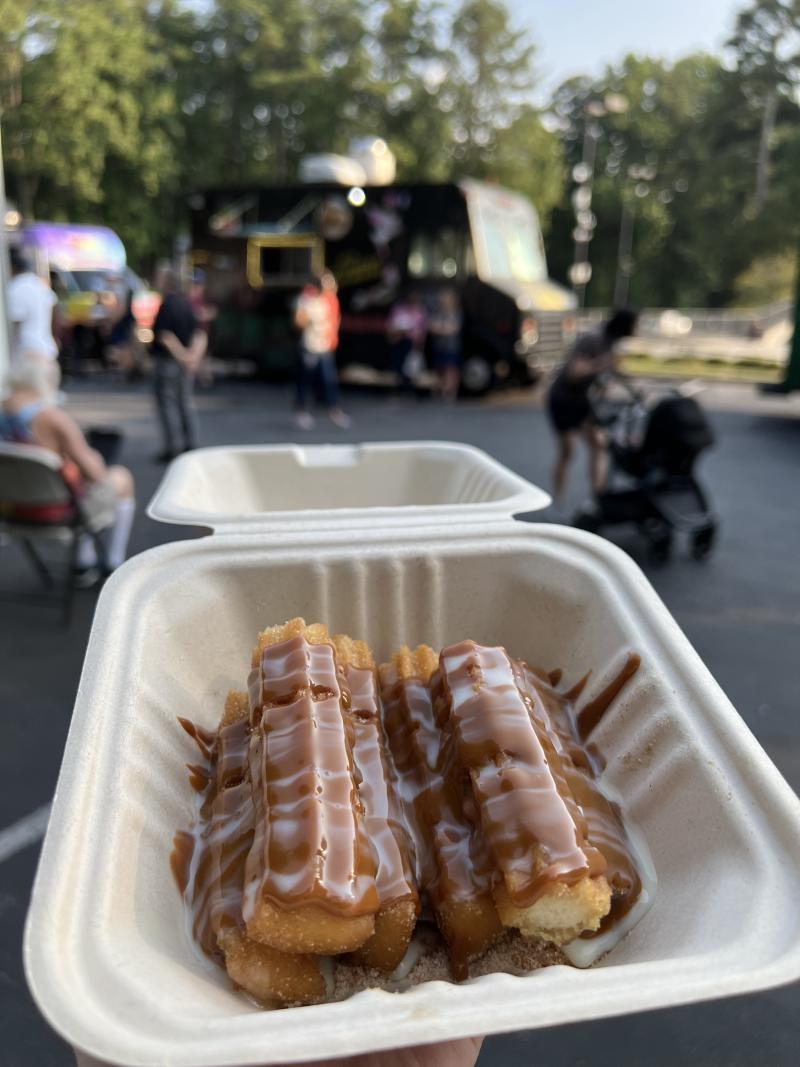 If you're 21 and over, you can find a refreshing adult treat from Moondog Growlers or Top Job Beverages. Sip on locally crafted beers, ranging from hoppy IPAs to smooth lagers, served ice-cold from the taps. For those seeking a touch of sophistication, indulge in a selection of crisp wines, both red and white, that will enhance the flavors of your chosen dishes. With a variety as vibrant as the food offerings themselves, Food Truck Thursday promises a delightful evening of gastronomic exploration paired with the perfect libation.
Food Truck Thursdays are a treat for all ages. Kids can revel in the wide-open spaces of Brook Run Park, engage in fun activities, and relish specially crafted kids' menus from some of the trucks. Let the kids splash around in the man-made creek that flows through the playground while you sip and listen to live music. It's an opportunity for families to spend quality time together while savoring the pleasures of good food and great company.
One of the most satisfying aspects of Food Truck Thursdays is knowing that you're supporting local businesses. These food trucks are often owned and operated by passionate individuals who pour their hearts into their craft. By enjoying their dishes, you're contributing to the growth and vitality of the local food scene, making it a win-win for everyone involved.
Food Truck Thursdays at Brook Run Park in Dunwoody offer more than simply a meal – they provide an experience. From the diverse array of global flavors to the warm sense of community, this weekly event has captured the hearts of residents and visitors alike. So, whether you're a food enthusiast or simply looking for a unique way to spend your Thursday evenings, head to Brook Run Park and embark on a culinary journey that's sure to tantalize your taste buds and leave you with unforgettable memories.

Can't make it this Thursday? That's okay because Food Truck Thursdays is an annual event series between April and October hosted by the Dunwoody Homeowners Association, Redbird Events, and the City of Dunwoody!
Make sure to follow @DiscoverDunwoody on TikTok, Facebook, X, Instagram