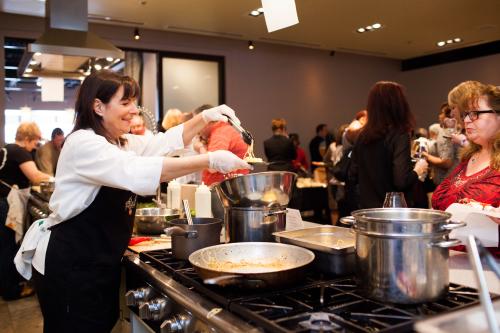 Invite your clients to a hands-on cooking class with one of our professional chefs. Your personal chef will go over equipment and ingredients needed, and walk through the process with your guests, step-by-step, to create their dishes. 
This virtual course will be set up to allow all students to screen share with their chef. This way your chef will provide feedback and specific direction for each student. Students will also be able to ask questions to their chef throughout the session. 
Vino Venue's Beverage Director will choose two wines, paired with the items being cooked. Guests will pick them up at Vino Venue in advance of the class, along with a cheese and charcuterie pack to enjoy while they are cooking, and even the recipe ingredients, if you wish! Your wine host will introduce the wines during the session. 
The day after your event, we will send you a link to a video of the session, which you can send to your clients as a follow up and thank you. 
 
How It Works 
1. Schedule the date and time for your 2-hour hands on cooking class with Vino Venue. 
2. Choose your menu. See options at the end of this document. 
3. Invite your clients to attend. They can include household members that are able to view the same device. 
4. Once your client confirms their availability, you will send them the ingredient and equipment lists, the recipes, directions on joining the Zoom session and specifics on picking up their wines, cheese/charcuterie pack and, if you desire, the ingredients from Vino Venue – these details will be provided to you by Vino Venue to forward. 
5. Join your session a few minutes early and provide a quick welcome at the start of your class. 
6. Your chef will do the rest! Sit back and enjoy. 
Experience Includes 
2-hour class 
Chef and wine host 
Multiple bottles of wine for guest 
One Cheese and Charcuterie pack for guest, additional packs available upon request 
Recipes – menu options at end of this document 
Optional ingredients for the recipes 
Video recording of your event 
Zoom meeting connections 
Ability to add your own presentation to the guests' experience. 
 
Pricing 
 $55 per guest and includes 2 splits of wine for each guest 
 $93 per guest and includes 2 bottles of wine for each guest 
 OPTIONAL: additional cheese and charcuterie packs 
 OPTIONAL: purchase the ingredients for your customers for 1 or more people, price based on menu 
 8% tax and 22% gratuity will be added to the final bill. 
 12 guests minimum. Other minimums may apply. 
Check Out Vino Venue's other Virtual Holiday Events