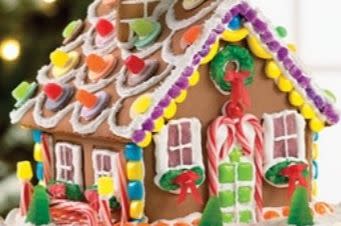 Your guests will receive a Gingerbread House and all the necessary items to decorate it! Plus, they will receive wine and a cheese & charcuterie pack to enjoy while they are creating their masterpiece. Guests get into the holiday spirit and enjoy a spirited competition at the same time. 
Your host for the event will teach them how to use their Royal Icing to affix their "construction materials", AKA... CANDY, to their house!!! Your host will also introduce the wines they are tasting. 
At the end of your experience, your host will judge the creations and award a winner! 
 
How It Works 
1. Schedule the date and time for your one-hour Gingerbread House creation with Vino Venue. 
2. Invite your clients to attend. They can include household members that are able to view the same device. You can add additional houses if required. 
Page 6 of 9 
3. Send your clients directions on joining the Zoom session and on picking up their house, wines and foods – these details will be provided to you by Vino Venue to forward. 
4. Join your session a few minutes early and provide a quick welcome at the start of your tasting. 
5. Your Vino Venue host will do the rest! 
 
Experience Includes 
1-hour session 
Host 
Gingerbread house, icing and candy for each guest 
Multiple bottles of craft beer/cider/wine per guest 
One cheese and charcuterie pack for guest, additional packs available upon request 
Zoom meeting connections 
Ability to add your own presentation to the guests' experience 
 
Pricing 
 $55 per guest with 2 splits of wine, cheese & charcuterie pack, Gingerbread House 
 $64 per guest with 3 splits of wine, cheese & charcuterie pack, Gingerbread House 
 OPTIONAL: additional sets of houses, food and wine 
 8% tax and 22% gratuity will be added to the final bill. 
 12 guests minimum. Other minimums may apply. 
Check Out Vino Venue's Other Virtual Holiday Events