If you haven't already noticed the art that is painted around Dunwoody, take a closer look next time you step outside your door. Dunwoody is a canvas for locals, students, and professional artists who have created tons of public art around the city. From Brook Run Park to The Spruill Center for the Arts to the light boxes at intersections around the city, follow our guide below to see the artistic gems scattered around Dunwoody.
Stop 1: Green Light Art Project 
As you drive from one location to the other to see public art in Dunwoody, be on the lookout for The Green Light Art Project. Initially launched in October 2022, The Green Light Art Project recently started Phase 2 in April 2023. This exciting new phase showcases public art created by the talented students at Dunwoody High School as well as local artists. They adorn many of the traffic signal boxes around the City of Dunwoody. Each box tells a unique story with a creative and symbolic meaning behind each painting, from the vibrant daffodils at Brook Run Park, planted in memory of the Holocaust victims as part of the Daffodil Project, to the graceful butterflies showcased in the Butterfly Experience providing residents with an opportunity to observe these beautiful creatures up close. These paintings were created to represent the many unique locations around Dunwoody through a variety of interpretations from the citizens in this community.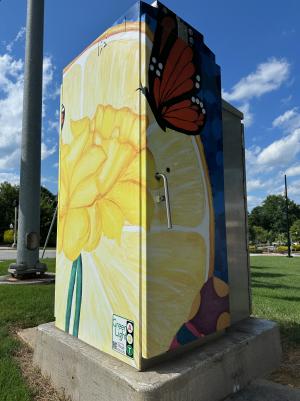 Stop 2: Spruill Center for the Arts 
Spruill Center for the Arts gives the community the opportunity to surround themselves with the beautiful art created by locals. Stop by to enrich yourself via the multiple murals they have on property: "Daydreaming," created by Diana Toma; "Wooded Wall," by Maureen Engle and students; "Shine Your Light," by Megan Reeves Williamson; "Together We Bloom," by Alea Hurst; plus so many more. However, The Spruill Center does not stop at murals, they also invite you to explore and enjoy a range of artistic expressions in their free gallery space, as well as participate in classes at the Art Center to create your own art.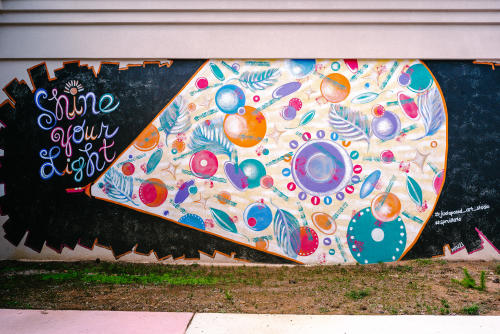 Stop 3: Brook Run Park
The next destination on your Dunwoody art tour should be Brook Run Park where you will have an opportunity to see two types of artistic expression. First will be the "Be Kind" mural by Megan Watters as a reminder to always be kind to those around you. Then take a walk down to "Grounded Growth," a sculpture designed and fabricated by Huelani Mei Fogelman, a local resident of Dunwoody. "Grounded Growth" was created to be a functional sculpture for citizens to use as a bike rack while at Brook Run Park.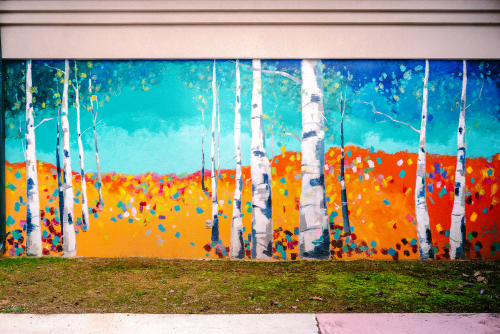 Stop 4: Dunwoody MARTA Station
Finally, head to the Dunwoody MARTA Station on Hammond Drive to see "Flora Chroma" by DAAS on the outside of the parking deck. Scan the QR code for a look at how virtual reality meets public art in this piece. Afterward, loop inside the parking deck to immerse yourself in "The Commuters" mural by Neka King. These murals are beautiful bright pops of art added to the MARTA Station of Dunwoody for commuters and the public to enjoy.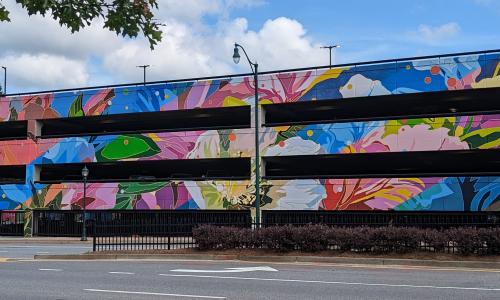 While the self-guided Dunwoody Art Tour will wrap up at the MARTA Station, be on the lookout for new art installations as Dunwoody is frequently developing new ways to brighten the city with creative artistic expressions through art by local and professional artists.
Check out our map HERE to help guide you on this tour!