Ah, l'amour! No matter how long you and your spouse have been together, continuing to date is an easy way to keep the sparks flying. We get it, between careers, families and juggling busy schedules, you may be thinking, there aren't enough hours in the day to plan a date night. Well, you're in luck! Consider us your Dunwoody date night cruise director and follow this blog series so you can skip the planning and get straight to the romance.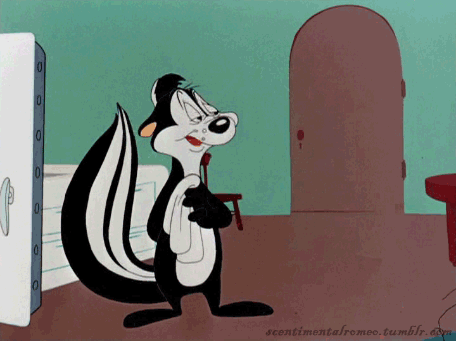 PICTURE THIS
An outdoor patio surrounded by lush green plants and beautiful hydrangeas, a table set for just the two of you, no crayons or kids menus, soft candlelight and a bottle of your favorite wine, friendly servers offering suggestions and pairings from a mouth watering menu, steaming plates of delicious dishes that make you want to lick your plate clean (please don't, this is a date night after all) and desserts so decadent that you'll think you died and went to dessert heaven. Did we mention no kids? Do we have your attention now? We thought so. Welcome to Vino Venue, Dunwoody's wine and dine wonderland.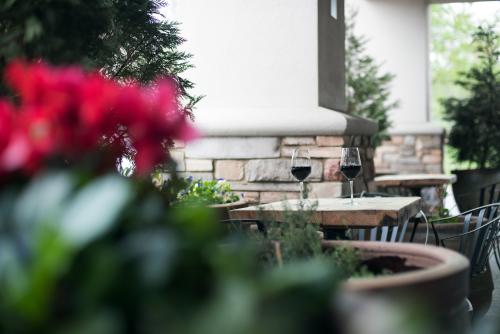 WINE
Admit it, when it comes to wine, you're a creature of habit. Most of us are. Step out of your comfort zone and try something new together this date night. Vino Venue's Enomatic wine dispensing machines are the perfect solution to ease your wine anxiety. Self-serve and sample 1, 2 and 5 ounce pours with the simple push of a button. Or, for a little more direction, let the experts at Vino Venue offer wine suggestions that will open you up to a whole new world of wine. Trust us, they know their stuff.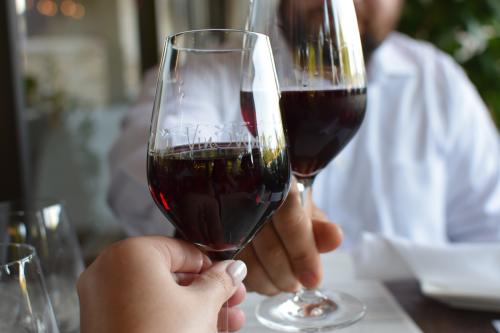 DINE
Vino Venue's dinner menu is a diner's dream. We know from experience. Whether you are in the mood for sharable starters, seasonal salads, hearty entrées or lighter fare, this menu is a true game changer. Lucky for us Head Chef Patric is also an expert when it comes to the final course, desserts. Be sure to save room and spoil yourself with cobblers, pastries and chocolate masterpieces almost as sweet as your sweetheart, almost.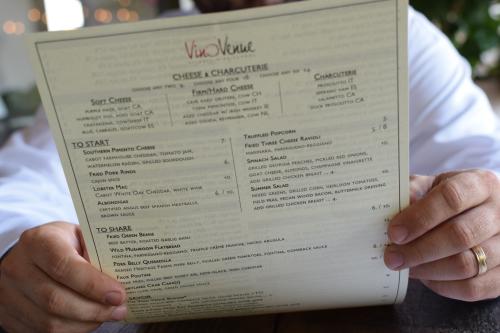 We've listed some of our new favorites below but the entire menu is equally delicious. Give it a try and report back to us your favorite dish... if you can pick one.
To Start: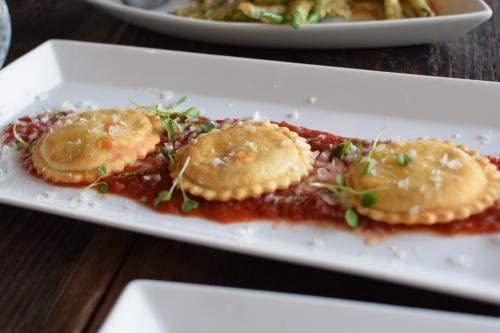 Fried three cheese ravioli served with marinara parmigiano-reggino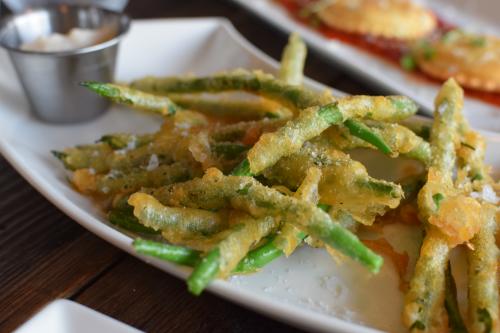 Beer batter fried green beans served with roasted garlic aioli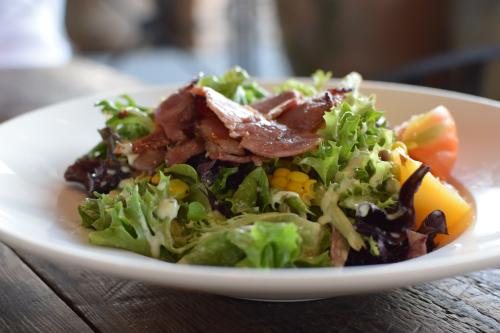 Summer salad with mixed greens, grilled corn, heirloom tomatoes, field peas, pecan wood bacon, and buttermilk dressing
To Savor: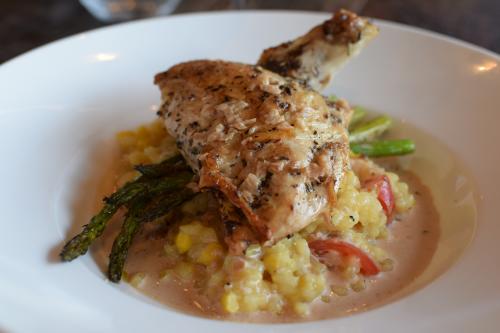 Pan roasted Spring Mountain Chicken Breast served with sweet corn risotto, asparagus with a sherry cream sauce
*Pairing suggestion: Vintage 2014 Bench Chardonnay, Russian River Valley, California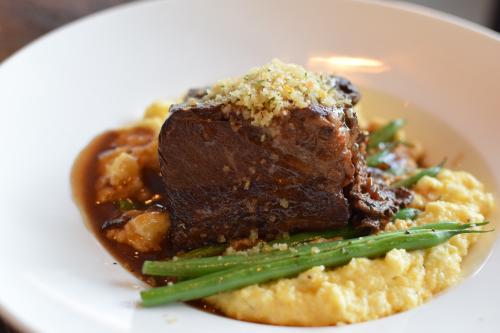 Red wine braised short rib with polenta, blistered green beans, demi-glace, with preserved lemon gremolata
*Pairing suggestion: Cabernet Sauvignon, Kat Goldschmidt, Sonoma California 2015
To Spoil: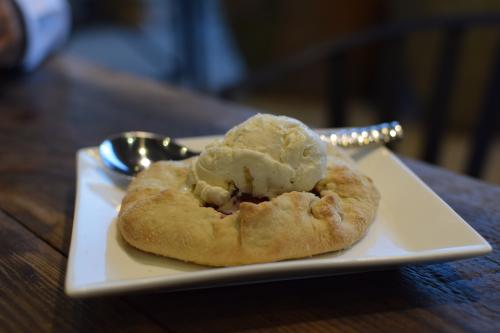 Strawberry Crostata with vanilla bean ice cream
*Pairing suggestion: Rosa Regale Brachetto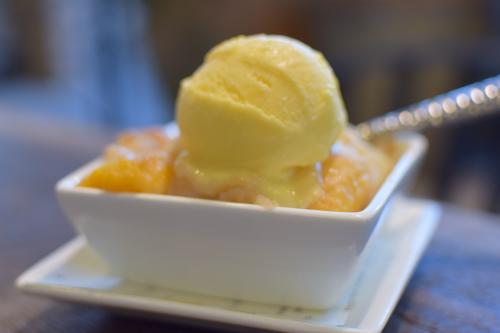 Georgia Peach Cobbler with buttermilk ice cream
*Pairing suggestion: Alasia Moscato
Interested in a day date? Vino Venue's lunch menu is equally as enticing!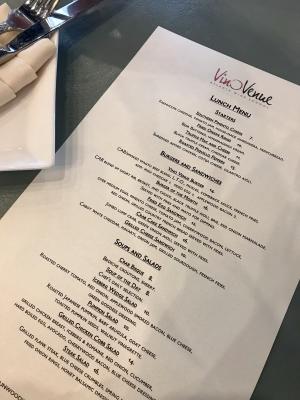 Whether you're in the mood for something on the lighter side or craving a little more, there is truly something spectacular for everyone.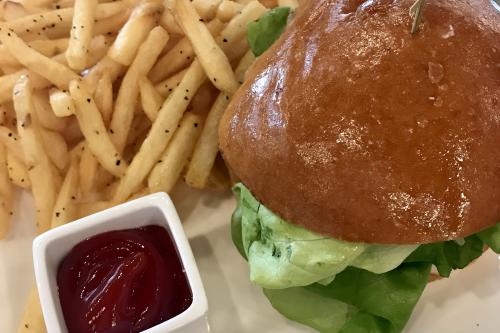 Jumbo lump crab cake sandwich with green onion aioli and french fries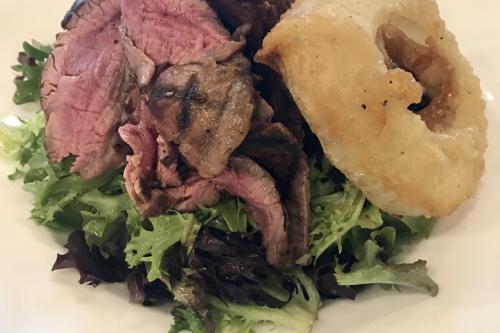 Grilled flank steak, blue cheese, spring mix, fried onion rings with honey balsamic dressing
Everyone knows the secret to a man's heart is through his stomach but women are a tad more complex. Guys, we hope this helps with setting the scene for a perfect night out and impressing that special lady in your life. Ladies, take matters into your own hands and treat the guy who still has your heart. Either way, take your date nights up a notch by following the rest of this series and share your love stories on social media using #DunwoodyDateNight. Ah, love.