Never underestimate the power of a girlfriends getaway. The countless laughs, endless support, and bottomless glasses of wine can go a long way in renewing your spirit. And what better time to come together than Galentine's Day? Text the girls, plan your outfits, and head 10 miles north of Atlanta to Dunwoody. We're the go-to destination for your getaway with the girls. We know girls just wanna have fun, so we put together a list of itinerary suggestions for you:
 
The Meet-Up Spot: 
Le Meridien Atlanta Perimeter is the perfect backdrop for your girlfriends getaway. Their Longitude 84 bar will provide the ideal pregame or nightcap. Go outdoors on their patio at night for light bites and long conversations by the fireside, or stay inside and take advantage of their flat screens and comfy couches. Make it a sleepover by booking a 2 King Suite so the girls can have a great stay accompanied by a great view.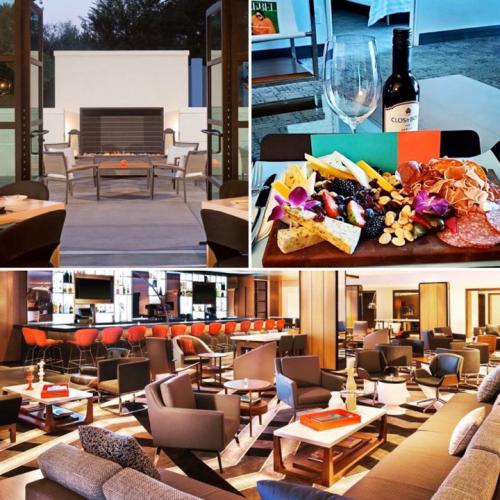 R&R:
Glow up and glam out at either one of our amazing spas. Both offer services and products designed with you in mind. Beauty meets science at Angela Michael Skincare & Spa with their menu full of invasive advanced skin therapy treatments. Reverse the effects of time with her signature anti-aging facial, body wraps, wrinkle fillers, and LED light therapy.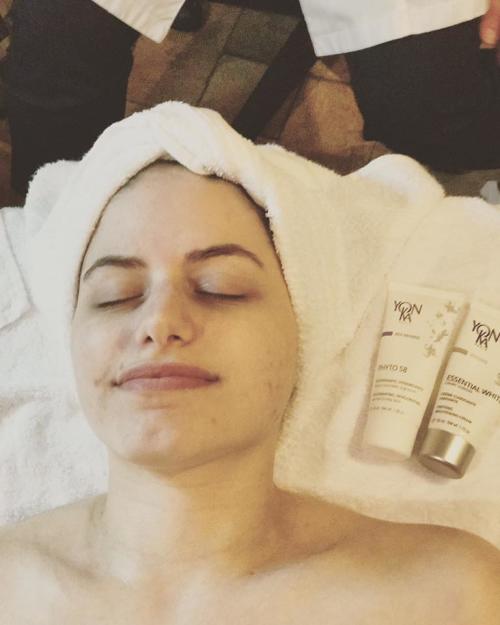 Have a full spa day soiree at Woodhouse Day Spa. With over 70 rejuvenating treatments, you're guaranteed to find something for everyone. Sip specialty loose-leaf teas together in lavish robes while you wait for your service(s). Then get lost in their signature four-handed massages, mud wraps, warm agave pedicures, and oh so much more. Did we mention this spa is tucked away inside Perimeter Mall? You'd never know once you step inside. But it does tie in very nicely to the next section of our itinerary...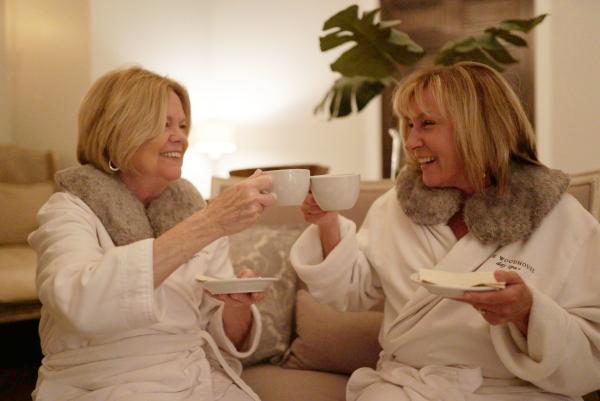 Shopping:
Some might consider this the main event. In Dunwoody, it certainly can be. Here you'll find local boutiques that will sweep you off your feet with their Southern charm, in addition to the second-largest mall in the Southeast- Perimeter Mall.
From unique and adorable hostess items to dreamy skincare products, children's books, state pride items and more, The Enchanted Forest is THE place to go when you need to shop for someone else. Be forewarned, you'll probably end up leaving with a few things for yourself too! Another great feature of this boutique is that they always offer to gift wrap your purchases for you so that you can just hand it off to your beloved recipients (i.e. each of your girlfriends.)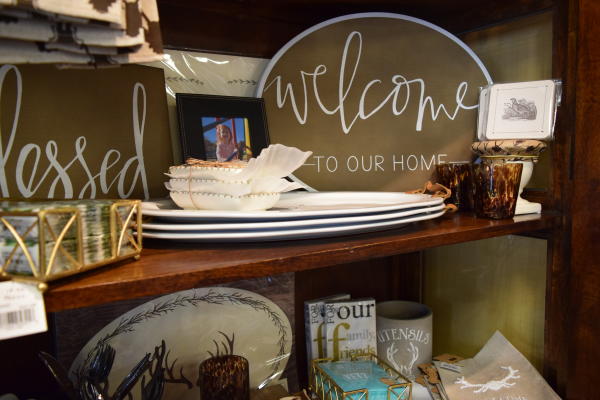 For great jewelry and the perfect gift for any momentous occasion, look no further than Under the Pecan Tree. Find something for christenings, baby showers, Mother's Day, Father's Day, and anything else you can think of!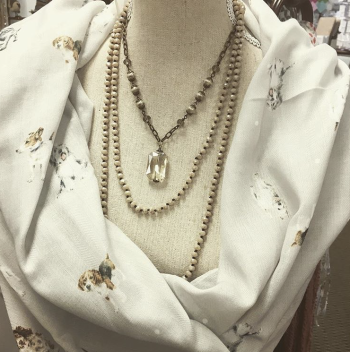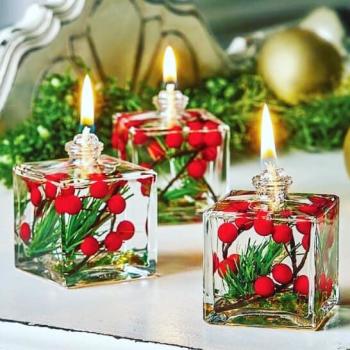 For the art lovers, stop by Spruill Gallery to both view and take home local, one-of-a-kind artwork. Not only will your purchase(s) inspire, but they'll also serve as a souvenir from your fabulous weekend with the girls! Artwork for sell ranges from painted pieces, to handcrafted dinnerware, jewelry, scarves, and more.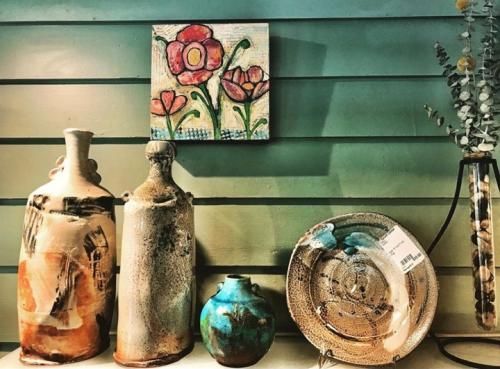 Shop 'til you drop at over 200 specialty stores located at Perimeter Mall. Take turns trying on fabulous finds in the fitting room, stop by the court, and pound the pavement until your hearts (and shopping bags) are full!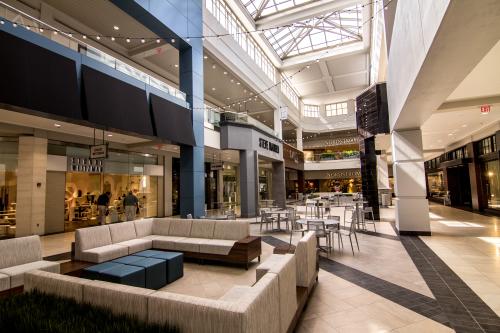 Wine and Dine:
Start your day off right with an unforgettable breakfast at Créma Espresso Gourmet This high-quality gourmet restaurant will have you wanting to stop by more than once before the weekend ends. Take in all the aromas of fresh-baked goodness and decadent coffee. Take home as many croissants and scones as you can possibly fit in your bag.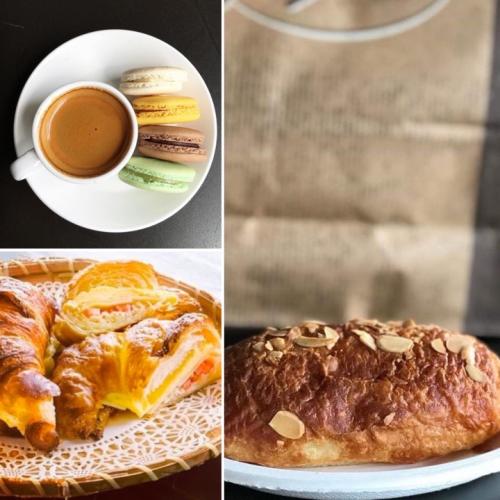 For savory, chef-inspired meals accompanied by wine, Vino Venue is the spot. Look ahead before your trip to see if there are any cooking classes that interest you and the girls. But at the very least, make a dinner reservation, order some charcuterie for the table, and some Enomatic gift cards. These cards will allow you to use to the Enomatic wine dispensers which is just a fancy way to say self-serve wine tastings. The best part? The cards are reloadable.
Went out for a night on the town, but not quite ready to call it a night? That's what dessert is for! Linger late into the evening at Cafe Intermezzo. The atmosphere is picture perfect, and so is everything else they have to offer. Ask for the dessert tour, and don't skim the beverage book. It has literally hundreds of choices from coffees, teas, wine, beer, mineral waters, and more.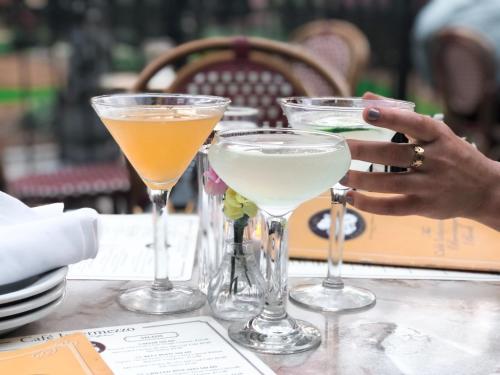 These are just some of Dunwoody's very abundant restaurant choices. Other notable mentions that are popular for girlfriends are Novo Cucina, Cinco Mexican Cantina (for happy hour and nightlife, but also because queso), Portico Global Cuisine, Parkwoods, and the Backyard at Parkwoods!
 
The Great Outdoors:
Get some fresh air to go along with the fresh perspectives this staycation is giving you. Walk the trails at Brook Run Park, relax in the hammock garden and do some yoga at the Dunwoody Nature Center, or treat the thrill-seekers to some zip-lining fun at Treetop Quest!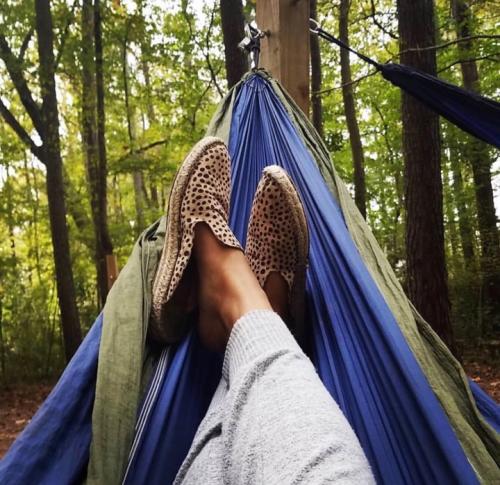 Until You Meet Again
The best part about discovering Dunwoody as a girlfriends getaway destination is that next time you'll already know where to meet. You can repeat the memories as needed, or make new ones!  We all get by with a little help from our friends, and as long as you have your girls (and girl time). For even more girlfriend getaway inspiration, check out this Travel Guide by The Southern Source!