Admit it. You always envied Peter Pan because he could fly. Well now you can too and you don't even have to travel to Neverland! (Dunwoody is much closer, and pirates are a non-issue.) You can fly, you can fly! You can zip, soar, crawl, swing and climb. All you have to do is go outside Atlanta.
In the serenity of Brook Run Park, therein lies an adrenaline-rushing, fun for all ages, zip-lining attraction by the name of Treetop Quest. Treetop Quest has more than 50 obstacles and 12 zip lines stretching over 200 feet at heights up to 55 feet above the ground. Courses range in difficulty from easy to very challenging, and the best part of all? They're self-guided! Click here for a complete walkthrough of the Treetop Quest experience.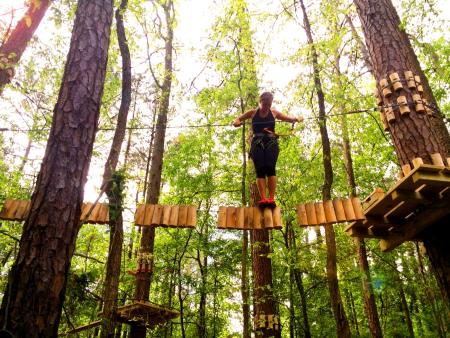 At the start of your quest, experienced instructors will make sure you are fully equipped with a helmet, gloves, and a harness for the course of your choice. From there, they will teach you how to operate the equipment before setting you free to swing through each course for up to two and a half hours, depending on age limit! And no worries, everything is highly secured and set to handle anyone age 7 and up.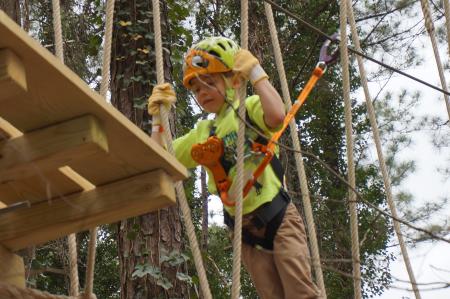 Thrill-seekers ages 4 to 6 have their own rendition of the fun as well. Kiddie Quest consists of a net trampoline suspended in the trees, an on-ground obstacle course, and a harnessed obstacle course. It's Treetop Quest on a lower level but equally as fun for the little ones! 
Before you decide to go Tarzan for a day, here are some additional things you should know:
All children under the age of 18 must be supervised by an adult

The dress code is closed toe shoes and comfortable clothing

You must sign a waiver to participate

Plan to arrive early 25-30 minutes to allow time for check-in and last minute bathroom breaks

​Photos are encouraged! There are trails underneath the courses for spectators to watch and capture photos of their friends and family in the trees. (Be sure to post and tag your photos with #OutsideAtlanta and #DiscoverDunwoody!)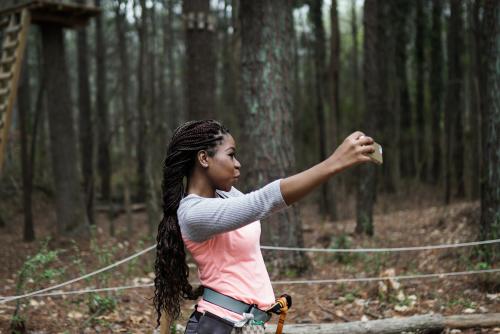 It's time to go above and beyond your typical weekend plans. All you need is faith, trust, a little pixie dust and to make your way to Dunwoody, where outdoor adventure awaits. Reserve your spot now, and we'll meet you in the treetops!