In Dunwoody, there are a variety of restaurants that offer international flavors and cuisines from all over the world. Discover Dunwoody can help plan the perfect international food tour around Dunwoody that gives our community a chance to taste every cuisine offered. Taste buds need a new challenge and international dishes are up to the task!
Start off a food tour with a fiesta at Cinco Mexican Cantina. This delicious Mexican cantina is located right at Perimeter Mall and has a huge, delicious menu. Start dinner or lunch with an appetizer on the simple side such as chips with queso or try the Empanadas de Pollo or Nachos Cinco for something craftier. Then transition into something a little heavier such as a burrito or enchiladas. Don't forget to wash it down with a handcrafted margarita or cocktail!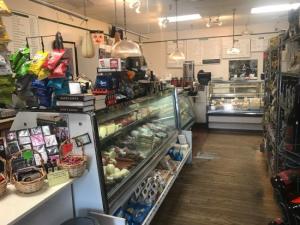 Next take a flight across the world and stop at E. 48th Street Market to experience an Italian inspired market. Enjoy their authentic Italian dishes including pastas, sandwiches, meatballs, and so much more. After enjoying a main dish, grab some Italian pastries that can satisfy any sweet tooth. They have amazing cannoli, cookies, and eclairs. However, that's just the start of what they have in their bakery. On the way out, be sure to shop for a tasty bottle of wine and a loaf of bread to take home and enjoy later!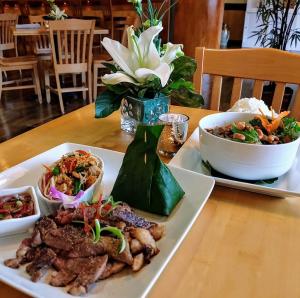 After enjoying a taste of Italy, venture over to Nai Thai Cuisine to indulge in their authentic Thai recipes that originated in Bangkok. Start off with their Crispy cheese rolls and Steam Thai Dumplings, then move into the main course with a Thai noodle dish such as their Pad Thai or Thai Lo Mein. Make sure to enjoy a handcrafted cocktail, and don't forget to choose a dessert before asking for the check!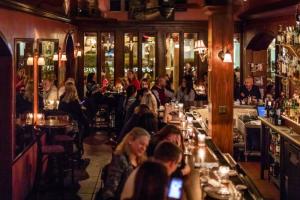 For anyone searching for a European styled coffee house to enjoy coffee, brunch, lunch, dinner, dessert, and/or cocktails, look no further, Café Intermezzo has options to enjoy something at any time of the day. Step inside Café Intermezzo to be transported to a 300-year-old European coffeehouse. The entire restaurant was created for their customers to feel as if they are sitting in Europe, taking a break from the real world. The art, music, and aromas all transform the restaurant. They have a wide variety of handcrafted coffee and cases full of delicious cakes and pastries. They also have a wonderful dinner and cocktail menu to indulge in during the evening!
The tour isn't over yet! There are a few more restaurants to add to the list. Try Grecian Gyro for amazing Greek food and Sankranti Indian Kitchen for delicious Indian food. Check out our website for a list of all restaurants in Dunwoody, as these aren't the only international options!