Relocating to Dunwoody, Georgia
The number of Fortune 500 companies headquartered in the Atlanta area continues to grow, and many relocating families look to Dunwoody, GA, as a leading option for places to live because of its affordable but high-quality housing stock, variety of restaurants, various shopping outlets including Perimeter Mall, transportation options to and from downtown Atlanta, and its easy access to other locations in the Atlanta metro area.
A Place to Call Home
Dunwoody, Georgia, has a combination of single-family homes, apartment communities and townhomes, and as a result, it attracts a vibrant mix of young professionals and families. Dunwoody is also known for top-rated Vanderlyn Elementary and Dunwoody High School and its family-friendly events and festivals, including Lemonade Days, the Dunwoody 4th of July Parade and the Butterfly Festival.
A Place to Work & Learn
Young professionals who want to live close to work and avoid long commutes relocate to Dunwoody because of the number of companies headquartered here. Students at Georgia Perimeter College or other nearby universities appreciate Dunwoody's high-quality but affordable apartments communities, and both students and young professionals alike value Dunwoody's easy access to and from downtown Atlanta via the MARTA rail system.
Many of the world's largest corporations have offices or headquarters in Dunwoody making the city a very active workplace. If you find yourself as a business professional in the Perimeter, we recommend joining the Dunwoody Perimeter Chamber of Commerce to take advantage of resources and opportunities to help grow your business and connections.
View their 2022 Official Guide to Dunwoody here: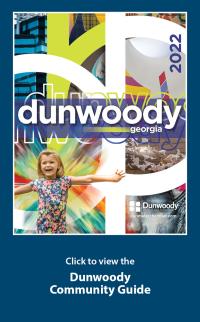 A Place to Live
Dunwoody is also a popular Atlanta-area community because of its range of outdoor spaces and natural attractions. Nature lovers enjoy Dunwoody's beautiful parks like Brook Run Park, which includes an off-leash dog play area and a designated gardening area for locals to freely visit and grow their own produce. The city also has a growing list of craft-brew restaurants, wine bars, coffee shops and locally owned boutiques, and a number of multi-use recreational trails are scattered throughout the city, all of which combine for a great way of life.