Choosing the perfect wedding venue is one of the most important decisions you'll make when planning your special day. In the picturesque city of Dunwoody, Georgia, you'll find a variety of stunning venues that offer the ideal backdrop for your dream wedding. From rustic charm to contemporary elegance, Dunwoody has it all. Explore some of the top wedding venues in Dunwoody to help you make an informed decision for your big day.
1. Dunwoody Nature Center
An oasis of lush greenery, the Dunwoody Nature Center offers a serene and natural setting for your wedding. Exchange vows surrounded by towering trees, the tranquil Wildcat Creek, and charming meadows. The North Woods Pavilion is perfect for a reception as you get a 180-view of the surrounding forest. The event staff is dedicated to ensuring your wedding day is as unique as your love story. The wedding rentals are highly customizable and the staff is excited to work with you to ensure your special day goes off without a hitch. Rent one space or the entire park, and have the woodland wedding or elopement of your dreams with the convenience of being within the Atlanta Metro area.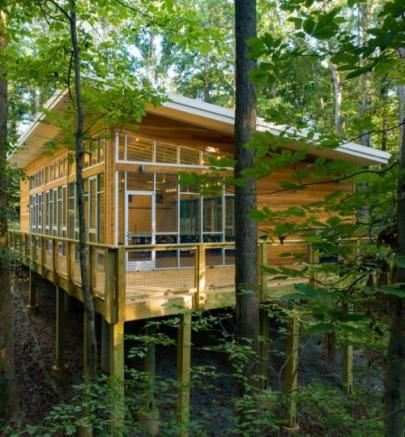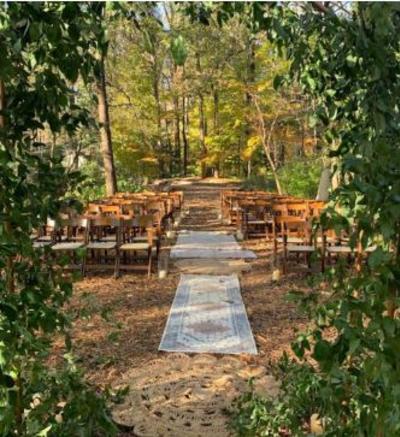 2. Donaldson-Bannister Farm
For those seeking a historic, pastoral and enchanting venue, the Donaldson-Bannister Farm is an excellent choice. This 1870 farmhouse boasts a beautifully restored barn and picturesque grounds. Imagine saying "I do" under the shade of centuries-old oak trees and dancing the night away in the charming barn, complete with rustic beams and a warm ambiance.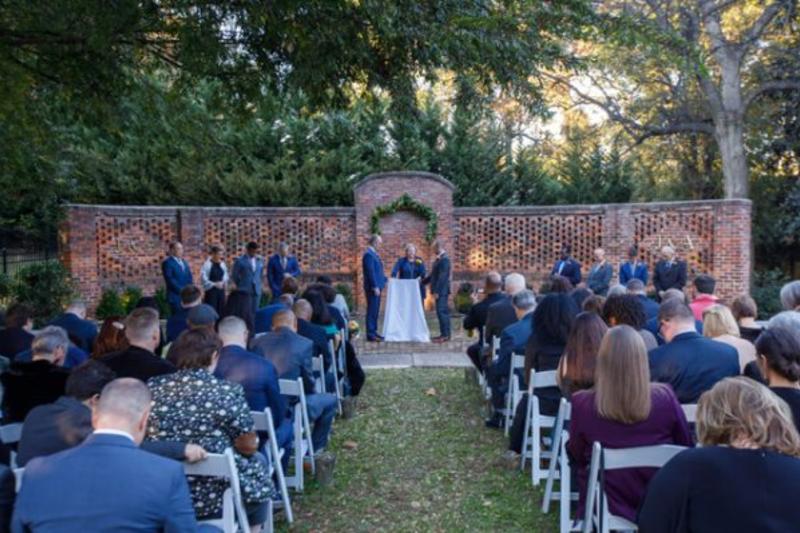 Check out the heartfelt words from one of the Farm' grooms:
"Donaldson-Bannister Farm was an incredible venue for our Fall wedding. The day was extraordinary. The grounds were magnificent and the ceremony setting was beautiful. The whole process was enjoyable. Dolores Lauderdale was a pleasure to work with and we couldn't be more pleased with her professionalism but also her kindness and the fun she brought to the process. Our wedding was even better than we hoped for and we would highly recommend the Donaldson-Bannister Farm for any type of celebration or event. A class act all the way."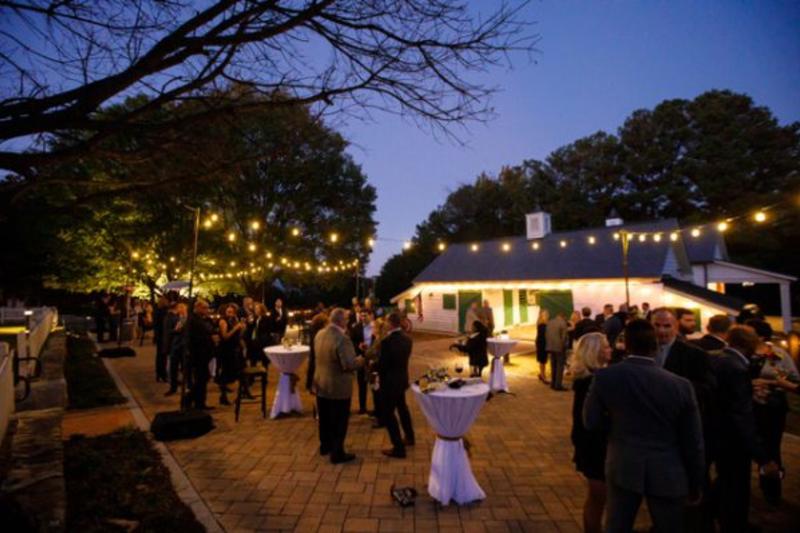 3. Atlanta Marriott Perimeter Center
If you're looking for a more modern and convenient option, the Atlanta Marriott Perimeter Center Hotel is an excellent pick for a wedding venue in Dunwoody. This upscale hotel offers elegant event spaces, impeccable service, and luxurious accommodations for your guests. Enjoy discounted rates when you book a block of 10 or more rooms for your wedding guests. With a dedicated Marriott Certified Wedding Planner, you can customize your wedding to perfection and enjoy a seamless celebration.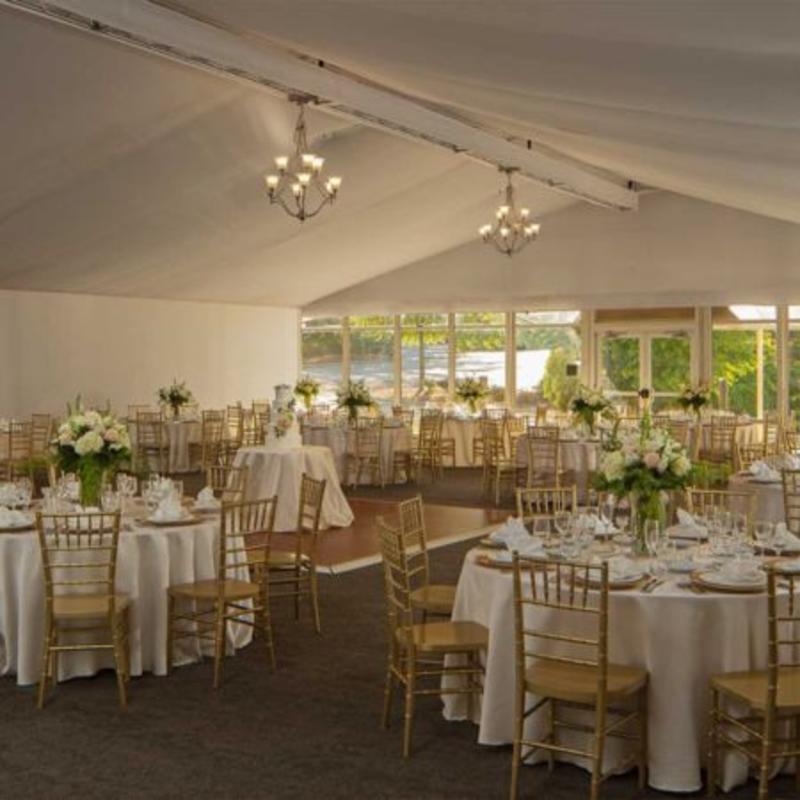 4. Le Meridien
Elevate your special day with a touch of sophistication and contemporary flair at Le Meridien in Dunwoody. This exquisite hotel offers a chic backdrop for your wedding or any special event. Also located in Atlanta's upscale Dunwoody neighborhood, it seamlessly combines the energy of the city with the tranquility of a residential area. Le Méridien Atlanta Perimeter in Dunwoody boasts three exceptional venues that provide romantic settings for your wedding ceremony, reception banquet, and rehearsal dinner. Whether you prefer the Georgia sunshine beside the iconic terrace waterfall or the elegance of their grand salons expertly decorated by the hotel events team, your vision can come to life here. Choose Le Meridien for a wedding or event that exudes style and sophistication in a luxury hotel setting.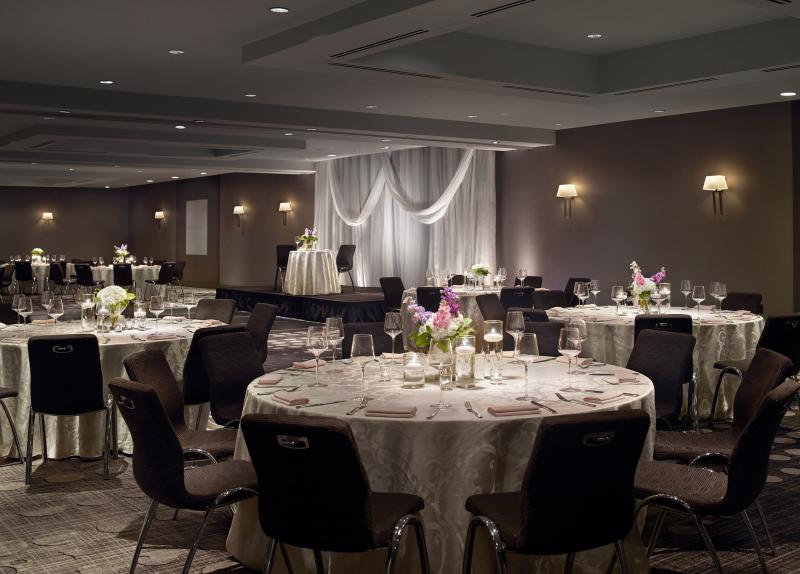 5. Crowne Plaza Ravinia
Nestled among the tall trees in the heart of Dunwoody's bustling Perimeter Center, the Crowne Plaza Ravinia Hotel offers a blend of convenience and elegance. This venue boasts versatile ballrooms, modern amenities, and a dedicated wedding planning team. Located within walking distance of Perimeter Mall and a MARTA station, your guests can explore all of Atlanta during their stay. Whether you're planning an intimate gathering or a grand affair, the Crowne Plaza can accommodate your needs with style and grace.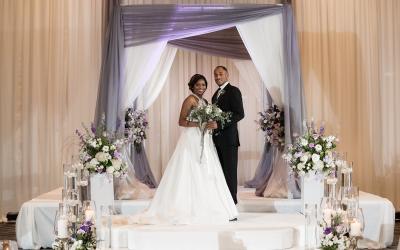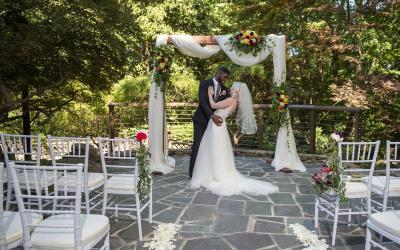 What to Consider When Choosing a Venue
- Budget: Determine your budget early on to narrow down your options and avoid overspending. Contact our team to help get discounts for your room block.
- Guest List: Consider the number of guests you'll invite as it will dictate the size of the venue you need. Dunwoody's venues can accommodate anywhere from 10-500+.
- Style: Think about the style and atmosphere you want for your wedding, whether it's rustic, classic, modern, Dunwoody has it all.
- Services: Inquire about the services offered by each venue, including catering, decoration, and coordination. The Discover Dunwoody team has a list of complimentary services for couples planning their wedding. Read more in our blog.
Dunwoody, Georgia, offers a diverse array of wedding venues to suit every couple's taste and style. Whether you envision a natural outdoor wedding, a historic farm setting, or an elegant and luxurious hotel property celebration, Dunwoody has the perfect venue to make your dreams come true. With attentive staff, beautiful surroundings, and a variety of options, you're sure to find the ideal venue to create lasting memories on your special day. Start your journey to forever in Dunwoody, where love meets exceptional hospitality.
Follow @DiscoverDunwoody on TikTok, Facebook, X, Instagram to learn more about what Dunwoody has to offer, just minutes from Atlanta.