Georgia has been touted as the "New Hollywood" or "Hollywood of the South" for over a decade. We can finally see it in action as the impressive 135-acre movie/TV studio Assembly Atlanta has popped up only 12 minutes from Dunwoody. This state-of-the-art new film studio is the first to combine studio space with public recreational space. The Discover Dunwoody team had the opportunity to tour the facility and delve into the innovative features that comprise Assembly Atlanta. Here, we'll tell you what we discovered.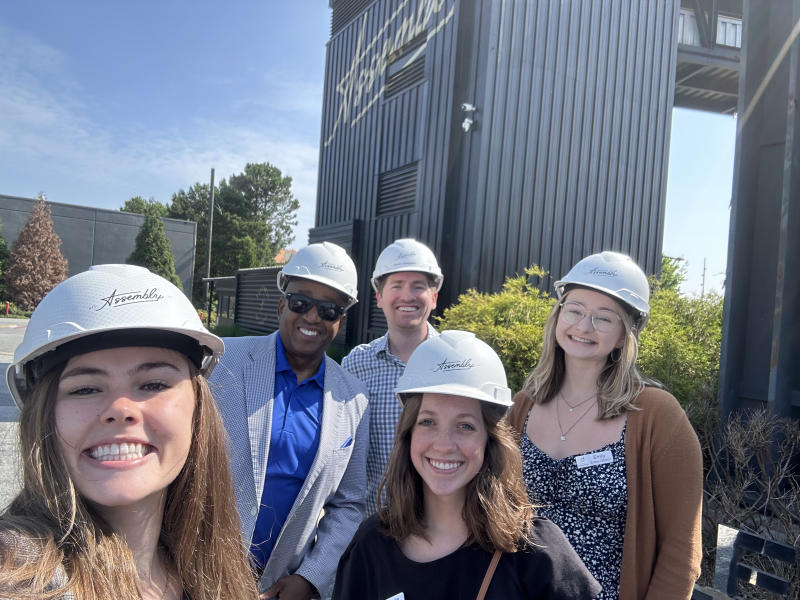 (From L-R, Madison Holtz, Mike Jackson, Justin Campbell, Landis Mangum, and Emily Ensor-Gibson)
Unveiling Assembly Atlanta Studios
Assembly Atlanta is a revolutionary new movie studio that has captured the attention of filmmakers and movie enthusiasts worldwide. Located in Doraville, Georgia, this facility is the former General Motors Assembly Plant site. Gray Television and NBCUniversal Media have partnered to build this facility to bring thousands of skilled industry professionals to the Perimeter. To put it in perspective, this facility can accommodate over 4,000 full-time staff working on ten different shows at the same time. With its exceptional infrastructure and advanced technology, Assembly Atlanta is set to reshape the film industry landscape in Georgia.
Cutting-Edge Facilities at Assembly Atlanta
At Assembly Atlanta, filmmakers have access to an extensive range of new cutting-edge facilities that cater to every aspect of movie production. The studio boasts 22 sound stages across eight studios, a retention pond turned into a shooting tank for films, and a 140-ft tall LED screen, the largest in the United States. The Main Street is decked out with actual brick and ironwork facades to simulate being in New Orleans, New York City, Europe or Chicago cityscape.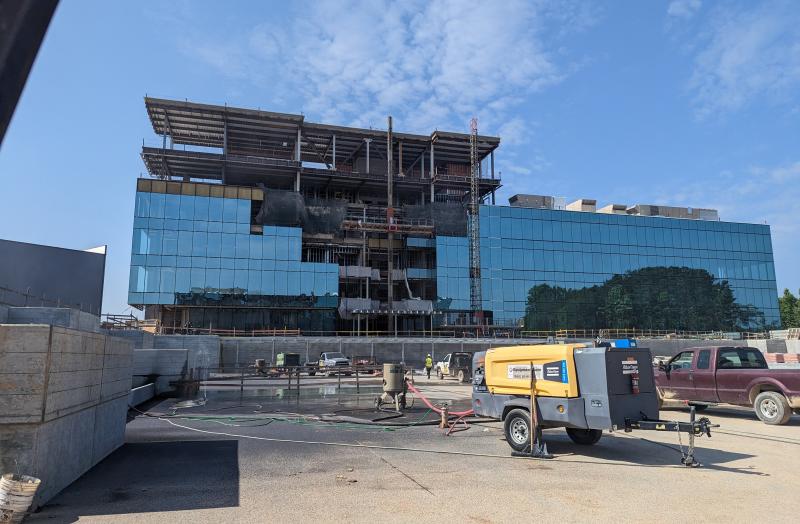 (Shooting tank before filled with water)
Moreover, Assembly Atlanta's production offices and post-production suites are designed to streamline filmmaking. The studio offers a seamless workflow from dressing rooms to prop rentals, enabling filmmakers to focus on their creative endeavors without logistical hindrances. The façade of the Main Street is for filming purposes while the immediate inside space includes hair and makeup, dressing rooms, standard office rooms, and in the back, enormous sound stages.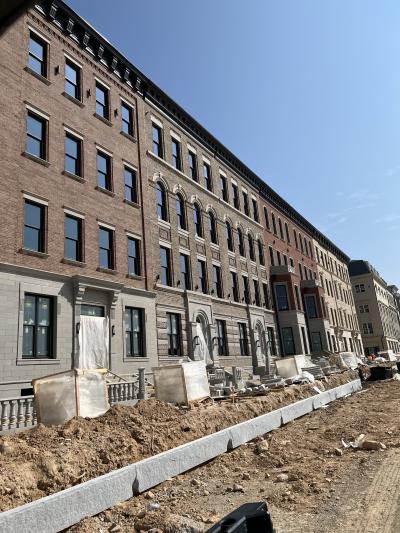 Open to Public: Park & Local Events
Assembly Atlanta differentiates itself from other studios in their involvement with the local community. The second phase of their work will focus on creating a park open to the public with a pond water feature and an amphitheater for local events. The public will be able to drive through the complex, down the Main Street, and picnic at the park. This facility is an incredible opportunity for locals and visitors to check out where some of their favorite shows or movies are being filmed.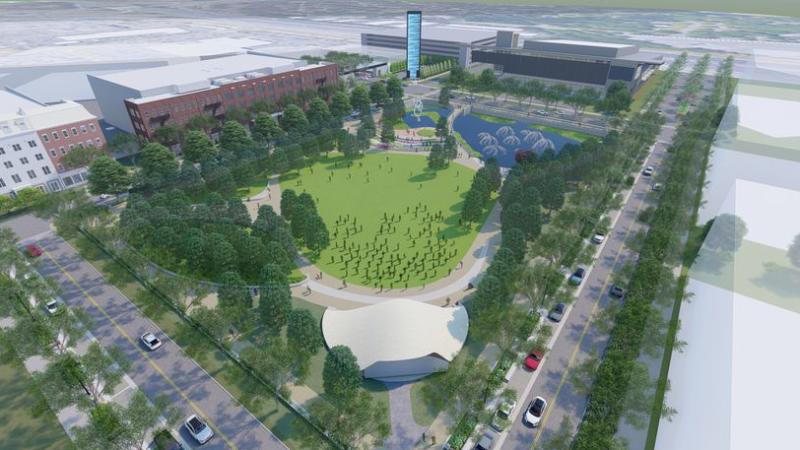 (photo credit: www.assemblyatlanta.com)
Fueling Economic Growth in Dunwoody
The establishment of Assembly Atlanta will have a significant economic impact on Dunwoody. The studio will create thousands of job opportunities by attracting major film productions and stimulate the local economy through increased tourism, hospitality, and service industries. Only 12 minutes from set to bed, Dunwoody will become a hub for film industry workers needing a place to stay, dine, and shop.
Dunwoody Native Response to Facility
"When touring Assembly Atlanta, I was immediately captivated by the size and scale of the space," says Landis Mangum of Discover Dunwoody. "As a first-time visitor to a sound studio, I was amazed by the magnitude of the facilities and the offerings available for filmmakers in this space. Adjacent to the sound stages were office spaces, dressing rooms, and dedicated areas for hair and makeup. The integration of these essential facilities will make it incredibly convenient for film productions and crews."

 

What stood out most on the tour?  "The remarkable attention to detail is evident in the facades of the buildings," shares Mangum. The level of craftsmanship showcased in the architecture contributes to an incredible experience that will be beneficial to both filmmakers and the public."

 

"I'm counting down the days until Assembly Atlanta is open to the public and I'll be able to see where movies and TV shows are being filmed. I'm excited to attend public events, concerts, and engage with this space. I'm looking forward to continuing to see Assembly Atlanta evolve into a space where artists can bring their visions to life and the public can experience the growing film industry through an immersive experience."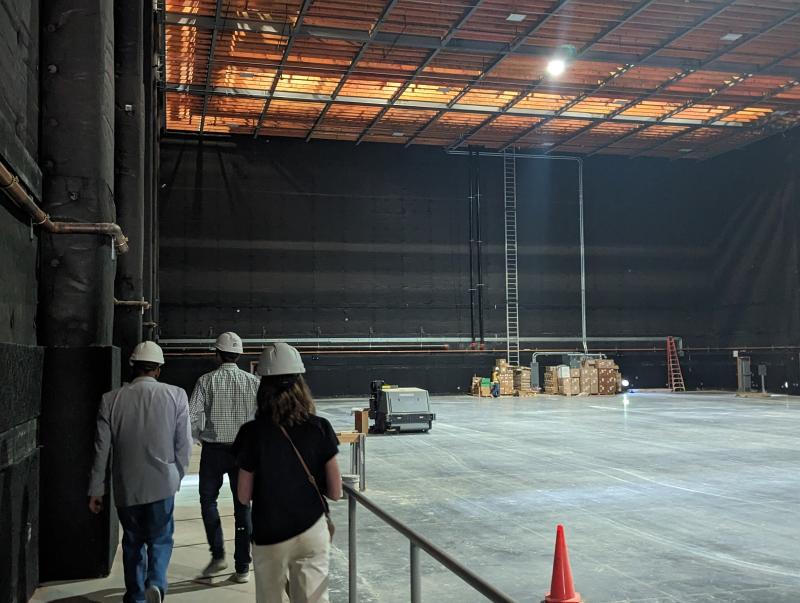 Assembly Atlanta is revolutionizing the movie industry in Georgia and beyond. This new state-of-the-art film studio, located only minutes from Dunwoody, has combined studio space with public recreational space, setting a new standard for the industry. With its impressive facilities and advanced technology, Assembly Atlanta is reshaping the landscape of film production. Dunwoody will gain much attention from the success of Assembly Atlanta, so join me in welcoming the film crews to our wonderful city.
If all goes to schedule, you could be reading this blog sitting in the park outside of Assembly Atlanta by September 1, 2023.
Follow @DiscoverDunwoody for more insight on the latest news on Assembly Atlanta.