Heyday, the chic facial membership spa out of Manhattan, opened its first Georgia location, y'all. They're in Los Angeles, New York City, Philadelphia and now… Dunwoody! That says a lot about our alluring Southern charm, dontchathink? 
I was lucky enough to get a sneak peek and facial before they opened Heyday Perimeter in early August to the public. The space is utterly adorable—lots of soft pinks and grays—and everyone who worked there was incredibly friendly and upbeat. Oh! And the cute little denim aprons the aestheticians all wear were the best.
The whole idea behind the Heyday concept is a $99 a month membership (think Massage Envy model) and you get one customized facial with "progressive products" filled with "intentional ingredients" every 30 days. Since most facials I've had are well north of that price point, it's a pretty good deal. If you want to book without being a member, they're cool with that too. That will cost $130.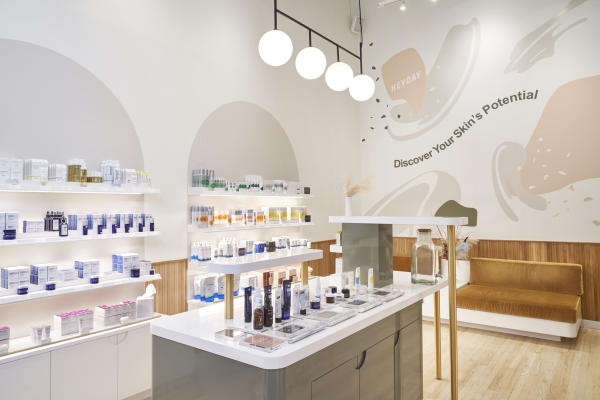 The vibe inside the Perimeter-area shop is very California cool and there is louder pop music playing than I'm used to when getting a facial at a typical spa. I liked it. The aestheticians are chatty and aren't whispering, which took me a second to get used to. It's like if everyone started talking loud in a library, it could take a minute to get comfortable with that. But since all Southerners talk people's ears off, it soon became natural and I turned my aesthetician into my new bestie by the end of our sesh.
My facialist made a joke about how at other spas hearing that classical spa music all day was mind-numbing. She was so glad to have real music in her day-to-day work life. I hear ya sis. I think the folks behind Heyday want you to get tight with your facialist because if you're coming every month you will get consistent care and start to depend on them like a hair stylist or eyelash guru. They become… well, your person. It seems like most people only get facials on a rare occasion, like when they're on vacation at a hotel or for a bachelorette. HeyDay is trying to disrupt that industry and make facials more casual, less expensive and a more regular thing.
They don't do robes at Heyday either. So you can stay in your clothes while your face gets all moisturized and dewy. I added on a Gua Sha enhancement. Gua Sha is an ancient Chinese massage that helps get rid of all that toxic stuff in your jowls that makes them sag and lifts your skin. It's also very calming. I loved having that jade facial tool being run across my skin. Ahhh… I can remember it now.
Enhancements are a whole thing here. Enhancements are a whole thing here. You can add on enhancements—peel, light therapy, microdermabrasion—for $20-$80 each (members get 50% off). Think like add-ons or pumps on your Starbucks order. They just enhance things a bit.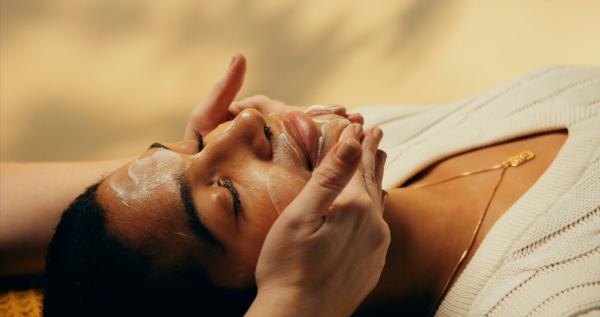 Overall, I loved the experience. I think the name Heyday is so cheerful. The joyful vibe inside matched its moniker to a tee. I'm glad they chose Dunwoody as their first store opening in the south. Now excuse me, I need to make another appointment with my bestie so we can gossip, Gua Sha and glow up.