Autumn is a special time in the South. A reward for the triumph of surviving a hot and sweaty summer, the crisp temperatures and cool breeze fall delivers are a welcome and refreshing change. They signal the transitional time we enjoy between the sticky ice cream sundae afternoons of August and the brisk walks of November, mugs of steaming hot cocoa cradled in gloved hands. After a jam-packed first few months of school, early October serves up a much-needed break from the daily grind and a chance to slow the pace and enjoy a four-day weekend with your fam. October is just a few weeks away, so it is time to make plans to explore the best fall break activities in Atlanta. Surprise! Most of them are in Dunwoody.  
Play All Day 
The secret is out about Dunwoody's top-notch school break camps, and our local arts and culture organizations aren't holding anything back when it comes to 2023 fall break camps this year. At Spruill Center for the Arts, Dunwoody's hub for all things artsy, you'll find imaginative themes like Monster Madness and El Dia de los Muertos. Dreamy days full of drawing, painting, games, and more are easily arranged with just a few clicks and your kiddos will arrive home with big smiles and hugs of gratitude after enjoying a day at art camp. Sessions fill up quickly, so snag your spot today by visiting Spruill's website. 
For little ones who love to explore the great outdoors, sign up for a fall break camp at Dunwoody Nature Center. Campers will be immersed in nature, taking in the fresh fall air while hiking around the babbling waters of Wildcat Creek and learning about Georgia's native plants and animals. Prepare for exciting tales about pine trees and potato bugs as you drive your crew home from camp. Sign up on the Dunwoody Nature Center website, and you'll guarantee hours of nonstop fun and creative play for the smallest members of your squad.  
Fun with Foliage  
To add some fall flavor to your next family nature walk, try a homemade scavenger hunt while on break. Ask your kids to make a list of everything they may see on your stroll through the forest, from critters to color palettes. As you're out exploring, encourage a little friendly competition and offer up a fun prize for the family member who spies the most items on your list.  
In Dunwoody, there's no shortage of lovely locations for a walk outside in the cool autumn air. Enjoy the fall foliage with your family in our destination's beautiful parks by stepping out onto the Dunwoody Trailway, our city's multi-use trail. At Brook Run Park, you can enjoy the large, shaded playground, stop to see talented skateboarders showing off their tricks at the skate park or take a break to watch puppies play in the dog park. Continue walking along the trailway, and you can challenge your group to a game of Bocce ball at Georgetown Park or shoot some hoops at Pernoshal Park. The trailway connects all three parks, so if you're up for a bit more than three miles, it's a perfect autumn outing.  
If your family is more into people-watching than pick-up games, pack a picnic lunch from one of our noteworthy local restaurants and take advantage of the cozy pavilion at Brook Run Park where you can enjoy the stunning fall foliage with a side of conversation.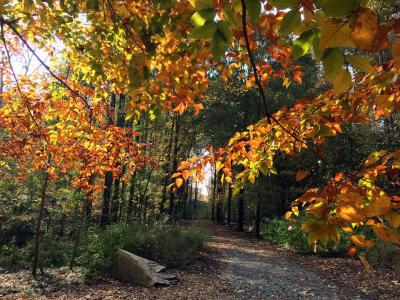 Spice up the Season 
Maybe on fall break, you get a chance to slow down, take the kids somewhere for breakfast or lunch? If you find yourself with a bit more free time and enjoy indulging in autumn flavors, Dunwoody offers a wide range of dining options that cater to your sweet cravings.
Savor a slice of fall at Breadwinner Café & Bakery in Dunwoody's Shops. Their subtly spiced pumpkin bread offers a moist and flavorful delight, perfect for autumn cravings. Whether with morning coffee or as a sweet treat, it's a seasonal must-try.
In Ashford Lane, grab the kids and follow your noses to the delicious fragrance of freshly baked cookies at Ali's Cookies. You can't go wrong with any of their flavors, but we love the pumpkin spice and apple crumble the most. Bonus: every cookie in the store is dairy free. If you believe variety is the spice of life, check out Paris Baguette for a vast array of European style pastries, cakes, muffins, and coffee drinks galore.  
The perfect fall break looks different for every family, and Dunwoody's combination of small-town vibes and major metro variety make it easy and enjoyable to plan a long weekend that fits you perfectly. Whether you're daydreaming of a fall break that's relaxing and recharging, or you're imagining an exhilarating weekend of non-stop fun, our welcoming city just North of Atlanta has something for everyone.  
We would love to know what you're planning for this year's fall break, or help you find the best activities for your crew!  
Send us your thoughts and questions on social by connecting with us on Instagram, Facebook, X and TikTok.