Welcome to Dunwoody, the perfect destination for the best holiday party! Situated just northeast of Atlanta, this charming city offers a wealth of exceptional venues that cater to a variety of event types, from grand galas to intimate family gatherings. Dunwoody's central location, proximity to Atlanta, and thriving hospitality scene make it an ideal choice for your next event. With nine beautiful hotels providing over 70,000 combined square feet of event space, along with picturesque outdoor and corporate venues, the options are limitless. Delve into the unique features of each venue, helping you choose the perfect setting for your upcoming celebration. Whether you're seeking upscale luxury, natural beauty, or a corporate environment, Dunwoody has it all.
Hotel Venues
Crowne Plaza Ravinia
This upscale hotel boasts a newly renovated 12,000-square-foot ballroom, a versatile space that can transform into the perfect setting for your large holiday party. The modern design and state-of-the-art technology make it an excellent choice for large events with an upscale feel. Large windows overlooking the stunning wooded grounds allow for the outdoors to come in, even when temps drop. Enjoy their holiday light display in their outdoor venue, Backyard at Parkwoods.
Atlanta Marriott Perimeter Center
With a prime location and over 18,400 square feet of flexible event and banquet space, and an experience that boasts personal service, the Atlanta Marriott Perimeter Center is a favorite amongst Dunwoody visitors and residents alike. The Marriott in Dunwoody stands out as the flagship of our nine hotels, boasting the largest event space to accommodate your large holiday party.
AC Hotel by Marriott Atlanta Perimeter
This hotel exudes a European flair with its modern design and minimalist aesthetic. The AC Hotel provides a unique and contemporary setting for your holiday gathering, offering floor to ceiling windows in their meeting room. If you're planning a party at the AC hotel, you can't beat the stunning rooftop bar, Bar Peri. Your guests will enjoy an exquisite combination of catering and drink selections while providing a breathtaking view of the city.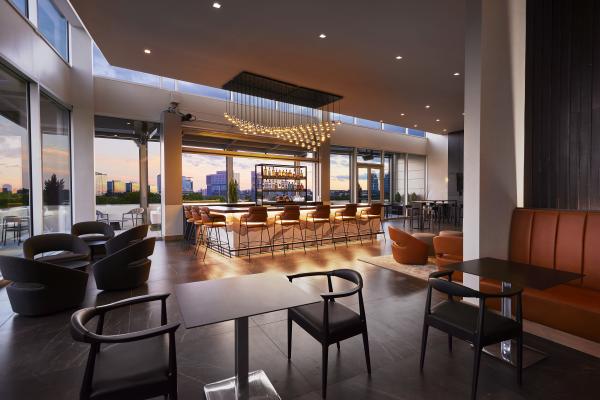 Embassy Suites by Hilton Atlanta Perimeter Center
The Embassy Suites in Dunwoody is a great choice for hosting your holiday party, accommodating gatherings of up to 150 guests. Their expert planners will offer event packages suitable for groups of all sizes, even those with as few as 25 attendees. Discover the perfect blend of elegance, convenience, and versatility for your holiday celebration.
Hyatt Place Atlanta Perimeter Center
Hyatt Place in Dunwoody offers versatile event space for holiday parties. With room for up to 115 guests, they're ideal for smaller scale parties in their 2,503 sq ft ballroom. If you're concerned about guests getting to Dunwoody, the skywalk from the Hyatt hotel provides convenient access directly to the Dunwoody MARTA station, making transportation to the area effortless.
Le Meridien
The contemporary design and upscale amenities provide an elegant backdrop for your upscale holiday party or meeting. Unforgettable events flourish in the 12 event spaces at Le Meridien able to host over 500 guests. For a more intimate venue, check out their restaurant Portico and try the delicious menu from executive chef Douglas Kieley's European inspired menu.
Outdoor Venues
Dunwoody Nature Center
The Dunwoody Nature Center is a picturesque oasis with serene woods, walking trails, and beautiful gardens. This natural setting provides a tranquil backdrop for outdoor parties, making it a unique and beautiful choice for your holiday party. If you're drawn to nature but prefer an indoor setting, explore the North Woods Pavilion, a 1,500-square-foot space that seamlessly blends the best of both worlds.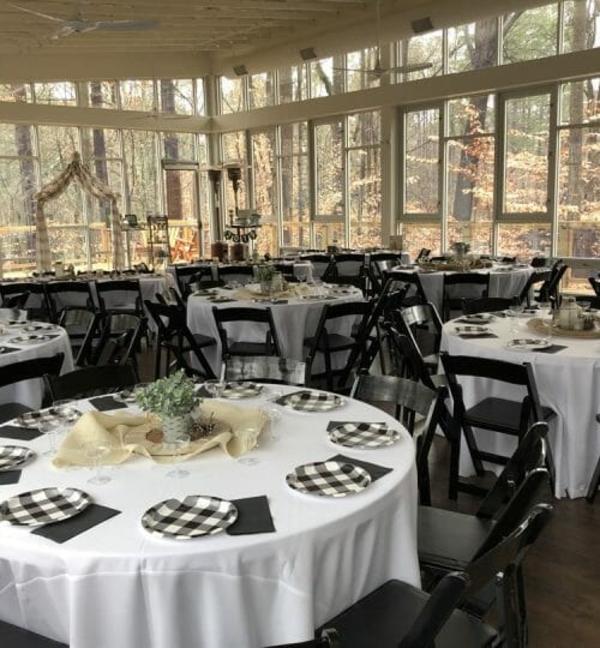 Brook Run Park
Brook Run Park in Dunwoody offers a unique and picturesque venue space for your holiday party. With its lush green surroundings, walking trails, and ample open areas, this park provides a refreshing outdoor backdrop for your celebration. Whether you're planning an intimate gathering or a large event, the park's flexible spaces can accommodate your needs. There is an amphitheater, a great lawn (perfect for a heated tent!) and large pavilion up for grabs. Enjoy the beauty of nature while celebrating your holiday festivities in style at Brook Run Park.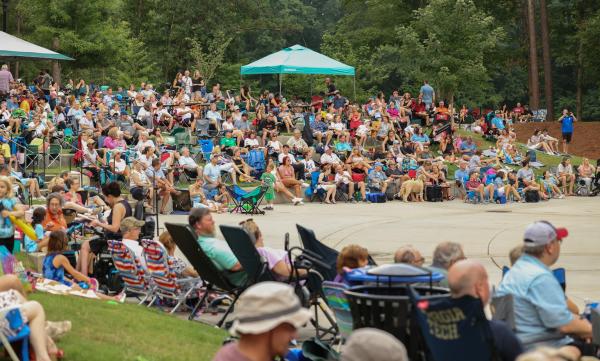 Corporate Venues
Roam Perimeter Center
With its contemporary design and state-of-the-art facilities, Roam Perimeter Center is a co-working space that doubles as an excellent choice for your corporate holiday event. This versatile space can accommodate a range of gathering sizes and types, providing a stylish and adaptable atmosphere for your celebration. Our fave? The Garage and Forum can host up to 150 people. With its floor-to-ceiling windows and garage doors, planners can get creative with this one-of-a-kind room.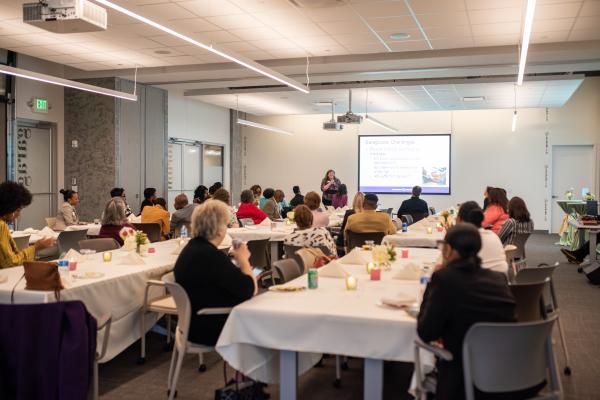 Serendipity Labs
Serendipity Labs is another top-notch venue, known for its modern and elegant design. Conveniently located in Dunwoody's popular shopping plaza Ashford Lane, it ensures accessibility and professional event services. Serendipity Labs is currently offering a limited-time special of 20% off on holiday events, providing a fantastic opportunity to host your gatherings at a great value.
Regus at Sterling Pointe
Regus at Sterling Pointe is a great option for hosting your corporate holiday party. Its central location in Dunwoody makes it easily accessible for your guests. This adaptable workspace can be tailored to meet the specific needs of your event, whether you prefer a closed-off setting or an open space with expansive windows.
Family Focused Venues
Donaldson-Bannister Farm
The historic Donaldson-Bannister Farm is a beautifully restored venue that adds a touch of rustic charm to your event. Combine the historic home, the barn and a tent for large groups. Or book just one that suits your event theme. With its historic architecture and lush grounds, it's perfect for a unique and memorable holiday party.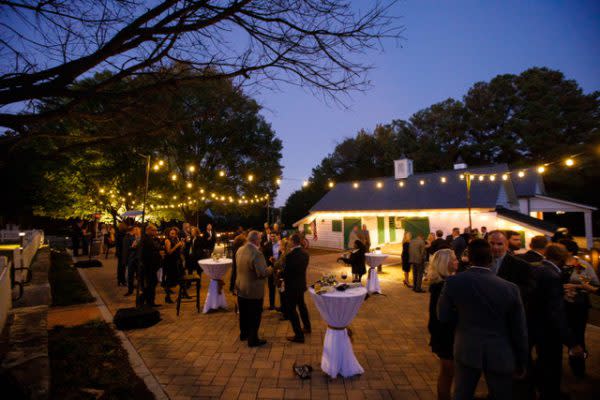 Marcus Jewish Community Center of Atlanta
The Marcus Jewish Community Center of Atlanta is a wonderful choice for hosting your holiday party in Dunwoody. This versatile and culturally rich venue provides a warm and inviting atmosphere for your celebration. With its spacious event facilities and experienced staff, you can create a memorable holiday event that meets all your needs.The banquet and activity rooms, gymnasiums, main street corridor, art studios, and a theater are all available for rental. All events include setup and breakdown, security, support services, and tables and chairs. They also provide staff members on site to help manage your event. Available add-ons include audio/visual/tech support, rock climbing wall, and ropes course. Hot tip: The MJCCA campus has a kosher policy, which determines what food can be brought onto the campus.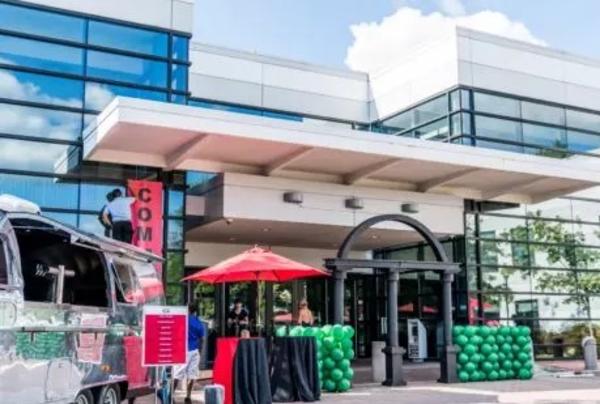 In addition to these fantastic venues, Dunwoody's central location means your guests will have easy access to some of the finest dining and shopping options in the area, making it a destination that everyone will enjoy. From high-end shopping centers to delectable dining experiences, Dunwoody has it all.
Before booking your next holiday party, we encourage you to reach out to the Discover Dunwoody staff. Our dedicated team is here to assist you in creating a truly memorable event. We can provide a range of complimentary services, including customized goodie bags, a selfie station to capture those special moments, recommendations for top-notch catering services, and even assistance with arranging room blocks for out-of-town guests, ensuring a seamless and stress-free planning experience. With Discover Dunwoody's support, you can add extra flair and convenience to your holiday celebration, making it an event to remember for years to come.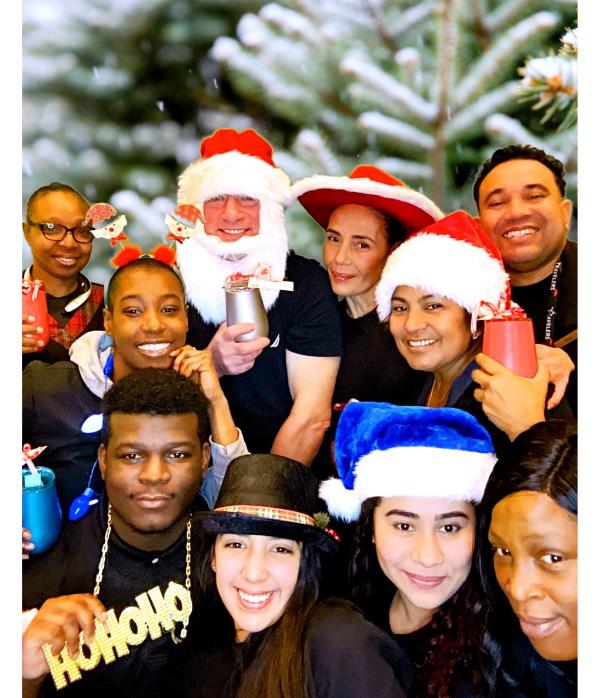 With this detailed insight into each venue, you can now select the perfect space that suits your unique holiday party needs in Dunwoody. Make your event unforgettable in the heart of this vibrant city.
Follow @DiscoverDunwoody on TikTok, Facebook, X, Instagram to learn more about what Dunwoody has to offer, just minutes from Atlanta.