Your road trip playlist is locked in to Spotify and you can't wait to press play on your family's weekend vacation to greater Atlanta. From seasonal festivals to savory food, Dunwoody is always buzzing. We're confident you can pick and choose from the hundreds of happenings that are always going on, but we're making it easier with this guide to bouncing between Dunwoody and Atlanta. Separated by just 10 miles, both of these cities are meant to experienced together. You can get back and forth by car or by rail in no time, leaving you with more time to do all the fun things you want. Speaking of time, let's get to it. Here's your perfect weekend itinerary to experience Atlanta by way of Dunwoody, GA.
Day One
Dunwoody's got hotel options galore, of course, and you can find good deals on our website. Whether you're looking for a suite with a kitchenette, or some top-notch amenities (ahem, pool and spa), we've got you covered.
Your first move after check-in will depend on the timing of your arrival, but once you settle in, you can set out. Often on Friday afternoons, Painting With A Twist hosts a family fun painting session. Not only will it get everyone's creative juices flowing, but there are other kinds of juices offered for the adults as well.
Talk a walk on the wild side by zip lining through the woods at Treetop Quest. This activity is a great for all ages, and it's the perfect adrenaline rush to kick off your ATL adventures.
In the evening, Dunwoody's community theatre, the Stage Door Players brings Broadway-quality theater to Dunwoody. Check their calendar to see what show they're staging during your visit.
Not a theater lover? Dunwoody Village is a great option for those looking to do it all. There are plenty of places to eat dinner, shop local stores, challenge the crew to some trivia, and listen to live music. Or make it a family game night by stopping into HOBNOB Neighborhood Tavern to grab and table and set up one of their board games.
Phew, what a day! Now, SLEEP. Please go to bed, children, and stop jumping in the hotel beds.
 
Day Two
It's Saturday morning, and you're en route to ATL. The good news: the drive from Dunwoody to Atlanta only takes about 30 minutes and weekend traffic is typically light. The even better news: you can get downtown and back for $2.50 by taking MARTA. This allows you to skip parking and traffic. And Dunwoody has it's very own MARTA station located right next to Perimeter Mall. 
If you do decide to take your own car, here's a parking tip. The parking deck attached to Centennial Olympic Park is within walking distance from numerous downtown attractions. The best part of hitting up Atlanta for a day of family fun? You can use CityPass to find affordable deals on all of the best attractions. The Georgia Aquarium is the first stop. Show up early to get early bird ticket prices and sign up for any of those additional animal shows you've been researching. The Georgia Aquarium is the second largest in the world, and boy does it feel like it too. It houses six distinct sections and more animals and species than you can imagine. Everyone in the family will have dropped jaws. No, not that Jaws. Although, there are sharks (eek!).
With a purchased stuffed sea otter in hand and a fading smile on everyone's face, it's time to refuel. The aquarium's cafeteria has a variety of healthy options, but if you prefer to explore the area may we suggest a short walk to another favorite, Max's Coal Oven Pizzeria.
After you say aloha to the aquarium, walk across the park path to the World of Coca-Cola to sample over 60 unique, global flavors of the iconic cola. The emporium has an array of interactive activities -- don't forget to take a picture with the Coca-Cola Polar Bear!
OK, so you've got a good sugar rush so now it's time to rush the kids to the car and start lathering up with sunscreen. Don't forget the baseball caps because it's time to hit the ballpark for nine. SunTrust Park, home to the Atlanta Braves, is nestled just outside of the heart of the city. Barbecue nachos, kid-friendly interactive games, and family photo ops are in no short supply when you dive into all the park has to offer. our favorite thing about a night with the Braves? There's sometimes even a firework show (after a Braves win and on Friday nights!)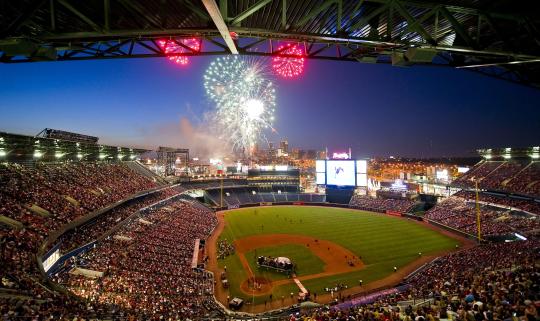 Braves win! And you won day two. Time for bed.
Day Three
Check out and get going. First head to E. 48th Street Market to grab some goodies for a picnic brunch at the Dunwoody Nature Center. Here, the kids can go on a Geocaching adventure while you take in the park's 22 acres of scenery. While navigating the wilderness and the park's daily agenda, don't forget to find Bennett, a piano that the Spruill Center for the Arts painted to live amongst the trees. Relax in the hammock garden while the kids play on the woodland playground named one of Atlanta's best. You'll never want to leave this place.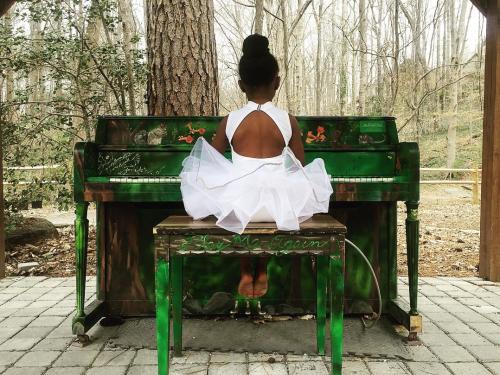 Fuel up with one last Dunwoody meal at Village Burger before you go. The food is excellent, and the friendly staff is even better. This local spot is a coveted Dunwoody treat you wouldn't want to leave town without trying.
On your way out, stop by Perimeter Mall to take something back home with you. It's the second-largest mall in the Southeast, so everyone is sure to find something. Then take a family selfie at the Everything Will Be OK mural over at Spruill Gallery. You can even stop inside to buy a unique handcrafted frame for the photo.


Let's Do That Again
The vacation's over which only means...it's time plan another one! We hope to see you back in Dunwoody soon. But, if you miss us before you even pull onto the freeway, you can always follow along with the latest happenings on social media. Follow @VisitDunwoody on Twitter and @DiscoverDunwoody on Facebook and Instagram to stay in the know on events, deals, and good eats! Better yet - share your vacation adventure with us using #DiscoverDunwoody. We can't wait to see how you spent your weekend with us.