Many people know Dunwoody's the perfect home base for an Atlanta visit. It's a short MARTA ride away, which makes it easy to unpack in Dunwoody and head out for a Braves game the same day. But what if you made the trip from Atlanta to Dunwoody, instead of the other way around? What if you stepped outside the hustle and bustle of the big city to slow down? What if you got a breath of fresh air or took a walk on the wild side? Stop thinking what if and start thinking about a trip to Dunwoody's outdoors. It's right #OutsideAtlanta.
Center Yourself in Dunwoody's Nature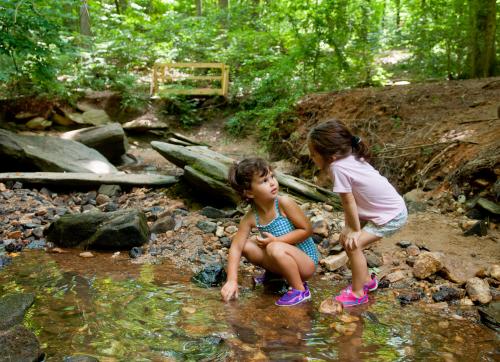 The first stop on your #OutsideAtlanta tour is the Dunwoody Nature Center on 5343 Roberts Drive. No matter the season, the Nature Center is a haven for wildlife and natural beauty in Dunwoody. Discover gardens, a tree house, and a real teepee, or simply stroll through the woods in true Thoreau style. Walking trails intertwine with peaceful streams, and an innovative playground entertains explorers of any age. If you're seeking a moment of peace and quiet in nature, try the tree swings or hammocks. That's right - tree swings. Not just for kids. The Nature Center offers classes, events and activities for all ages, as well as field trips, youth programs and summer camps.
Go Tarzan at Treetop Quest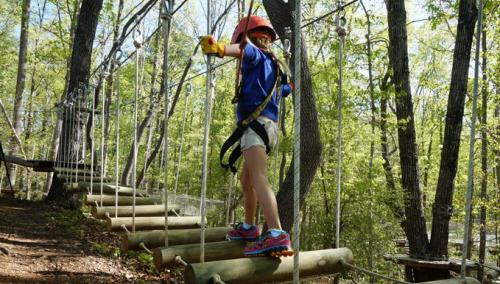 Now that you're one with nature, let's move on to the more extreme side of Dunwoody's outdoors. Treetop Quest takes you from #OutsideAtlanta to above it - quite a few feet above it, in fact. Conquer adventure courses up to 55 feet above the ground and ride zip lines stretching more than 200 feet. While experienced guides are available for instruction, thrill-seekers can take self-guided tours through specialized ropes courses. You'll feel that euphoric rush of adrenaline while also feeling safe within Treetop's highly secure environment. Families, friends and groups alike can swing by for the fun at 4770 N. Peachtree Rd. Check their website for hours and reservations.
Park and Play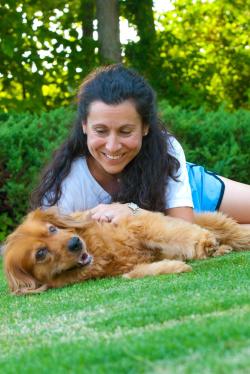 When you're ready to wind down #OutsideAtlanta, the best place to wind up is at a park in Dunwoody. Our parks span 200 acres in Dunwoody, offering ample green space for picnics, hiking, biking, dog walking, skateboarding or just a nap under the sun. Brook Run Park, Dunwoody's largest park, features playgrounds perfect for kids, toddlers and tiny tots, multi-use trails, an off-leash dog park, event pavilions, amphitheater and more. The historic Donaldson-Bannister Farm offers acres of fun, with event space available for reservation and open lawns for play year-round. At Georgetown Park, there's a gazebo, decorative fountain and bocce courts perfect for an afternoon out and about. While exploring, don't overlook the lovely and serene Vernon Oaks Park, Windwood Hollow Park, the previously mentioned Dunwoody Nature Center. And head over to Pernoshal Park for a covered pavilion, open play and flexible fields, basketball courts, and a multi-use loop.
Share Your #OutsideAtlanta Photos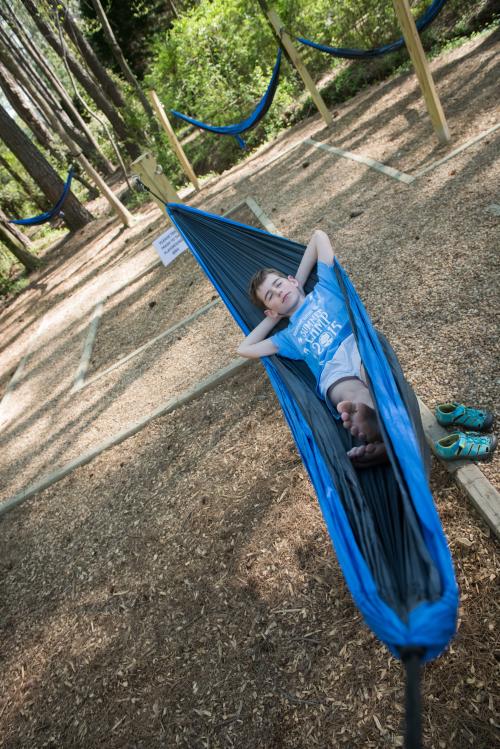 We're not so naive as to think you won't bring your phone along on your outdoor adventures in Dunwoody. We get it - that view of the blue sky peeking through the tree branches from your hammock at The Nature Center is just too beautiful not to share. When you do snap a pic in Dunwoody's outdoors, be sure to tag it with #DiscoverDunwoody. We'll like it, love it, and maybe even make you famous by sharing it on Dunwoody's socials.